'Rocky Horror Picture Show' to crash-land on campus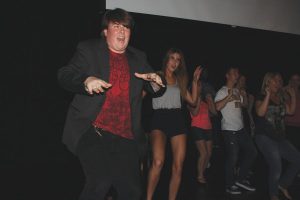 With just a jump to the left and a step to the right, the "sweet transvestite from Transsexual, Transylvania" is doing the Time Warp all the way to campus for California Lutheran University's production of "The Rocky Horror Picture Show."
The 1975 musical is about a newly engaged couple who get stuck in the middle of nowhere on a stormy night.
Lovers Janet and Brad set out in search of a telephone only to come across a mansion full of peculiar people gathered for a party.
The master of the mansion, Dr. Frank-N-Furter, invites Janet and Brad to join in festivities, which forever changes the way the couple views reality.
"The show is really about the loss of innocence and provides an interesting narrative on sex and our conservative society," Said junior Will Cowles Meyer, student lighting designer.
The show will be what is known as a shadow cast production, where the actors will be playing out the scenes while the movie plays in the background.
"We're not going to be talking or singing," said junior Graham Jameson. Instead, "we will be lip-synching. We'll be acting it out".
Additionally, Jameson said that this production is perfect timing with Halloween coming up.
Students are encouraged to dress up and participate throughout the musical. The audience can also bring blankets to sit on while watching the performance.
While it may not be live singing, several members of the production said that with this type of show, it should be expected to have a lot of interaction between the actors and the audience should be expected.
The show is "an extremely fun event to attend. The audience is very involved in the show, and is invited to learn the 'callbacks' for the movie [before the show], as well as join in the Time Warp," Meyer said.
Students should be prepared for "fun music, lots and lots of people in drag, some dark humor, some lighter humor, dancing and flashing lights," Meyer said.
As stated by senior Ashton Williams, production departmental assistant in the theater, the idea for this musical has been in place for awhile.
"Two years ago, a group of students presented the idea of doing Rocky Horror as a student black box production and we were told no due to the fact that our fall black box typically opens only five weeks after school starts," Williams said.
"Between auditions and rehearsals, that didn't seem to be enough time to put on a full-scale musical. So our faculty reconsidered for this fall and agreed to let us do the production as a shadow cast version. The faculty decided it would be fun to do and would work well with our other fall production."
The production will take place on Oct. 11 and 12 at 10:00pm and Oct. 13 at 8:00 p.m. at the Uyeno Amphitheater, located between the Humanities building and Overton Hall. Come, make yourself up and do the Time Warp again!
Janella Caravetta
Staff Writer
Published Oct. 9, 2013