The music production program plans to expand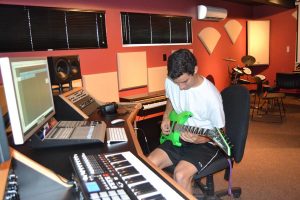 On Sept. 24, the music production lab opened in Zimmerman Music Studios after renovations. The renovations are to help increase the standard of the music production program.
The renovations consisted of upgrading the compressing hardware and adding acoustic panels, which according to Professor Mark Spraggins, head of the music production program, were approximately $3000 and help control the sound in the room.
The department has received funding from both the music production budget as well as help from facilities to help improve the quality of the equipment for training. This serves well for the current and future students for the program.
"One thing that I've been trying to do with the music production program now is buying only professional grade equipment. Even if it means we have less stuff we purchase every year, at least, one or two rack pieces you would find in any recording studio. So, the students are learning on quality grade equipment," Spraggins said.
The music production program is a fairly new major at California Lutheran University.
"I added it as a major at the end of my sophomore year. It didn't even exist before then," Senior Matt Young said.
The music production program students have work spaces in the Zimmerman Music Studios and the Spies-Bornemann Center for Education & Technology. In SBET, the music production department houses equipment in the same studio as the TV and video production programs on campus.  Because it is a shared space, there is no room for all of the proper equipment for the students to complete their work. "There's no software instruments in the studio," junior Jacob Munk said. This forces the students to have to ping pong their work from the studio to the production lab, which has less than what is required for a functioning studio.
"My biggest priority is to have a dedicated recording studio on campus and that goes along with this lab. It would essentially replace what we do in the TV studio. And those guys that use the TV studio for film or video production, they will be just as happy as we will to have their own dedicated space for that purpose," Spraggins said.
Expansion has been on the horizon for several departments on campus, but because of the popularity of the music production program, it would seem action needs to be done soon.
With the expansion of the program, Spraggins said that there was going to be a new course focusing on music business. The course is to be taught by Evan Forster, a former music executive at A&M Records. This concept will help bring a more rounded course for the program. Currently, music production majors take business classes within the business department. The addition of the course will allow music production students to have priority when registering for the music business class.
Jordan Oram
Staff Writer
Published Oct. 9, 2013