'Westside' brings the party to the people
October 16, 2013|95 Views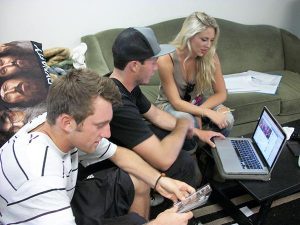 If you are a student looking for good music and a party atmosphere, California Lutheran University might just have the guys for you.
Juniors Noa Bryan and Connor Treacy have been throwing parties as the Westside Promoters for the past two years and are beginning to make some serious "noise," gaining popularity along the West coast and attracting interest in their services. Luckily for them, this kind of noise doesn't require a permit.
Despite their rising popularity, the Westside Promoters, who came up with the name simply from their love of the West coast, came from more humble beginnings.
"I just got tired of going to lame parties that people were throwing, so my freshmen year at Cal Lu I just decided to start throwing my own parties at houses and in backyards," Treacy said.
Treacy and Bryan met as freshmen at CLU and became friends instantly.
"I met him when we were doing all of our freshman activities… and I just thought he looked like someone I could be friends with," Bryan said.
Becoming roommates soon after, Treacy approached Bryan with the idea of throwing their own parties. Bryan was hesitant at first, but after some persuasion from Treacy, he was on board and they had the first two members of Westside Promoters. Today, they are eight in number.
The Westside Promoters put on small events to start, but to their surprise, their parties began to grow exponentially and soon gathered enough attention to attract news.
"After I threw about four parties, I threw my biggest one where I rented out a mansion in Beverly Hills and got a bunch of DJs to come out. There ended being over a thousand people that came and actually the FOX 11 News crew was filming the party at one point," Treacy said.
Treacy said it rivaled the party that was featured in the movie "Project X." This was a turning point in both Bryan and Treacy's eyes. After the party, they both began to take their business and company more seriously.
Since the Beverly Hills bash, the two have continued to gain followers through social media and word of mouth, throwing parties on a regular basis throughout Southern California.
"I went to the Ink Fiends Fashion Show after party at Borderline last year and it was a great time. Definitely one of the best parties I've been to out here,"  senior Nik Kessler said.
Their parties bring out hundreds of college students on a consistent basis and attract DJs from different parts of California.
The Westside Promoters have booked acts such as rap artists Andre Nickatina, YG, and Casey Veggies. Bryan even hosted events under the Westside Promoters umbrella when he returned home to Hawaii this summer, spreading the word and making their reach trans-pacific.
Despite the rapid success they have experienced, Bryan and Treacy continue to make their next opportunity better than the last.
"We actually have some big plans for the future," Bryan said. "We've seen what we can do so far and we're just trying to take this thing as far as it will go."
Treacy said the Westside Promoters aired a pilot for an MTV reality show where they will be traveling to different cities and hosting parties. They mentioned wanting to tour in Japan where they will host events in conjunction with a famous Japanese DJ.
Whether you have attended one of their parties or not, it is difficult not to appreciate the hustler's mentality these CLU students have used to become successful.
The Westside Promoters will host their next event will be at Arena Sports Grill and Bar in Simi Valley on Halloween from 9-11:30 p.m. There will be costumes and dance contests and will also feature DJ and rapper Mike G from the Los Angeles-based rap collective, Odd Future.
For additional information on upcoming events, follow the Westside Promoters on Facebook and Instagram.
Kevin Post
Staff Writer
Published Oct. 16, 2013