Knorr remembered at inaugural alumni meet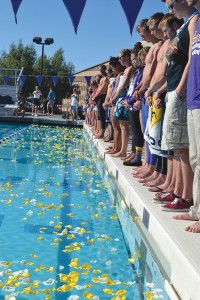 On Oct. 20, California Lutheran University held their first swim and dive alumni meet. The meet consisted of current team members as well as swimmers from previous years in honor and remembrance of Chris Knorr.
Knorr passed away May 2013. He had a brain tumor and a long struggle with cancer.
According to his obituary on asacredmoment.com, "From a young age he participated in competitive swimming, baseball, soccer and basketball." He was known for his strong competitive spirit.
According to the team's head coach, Tom Dodd, he had strong leadership capabilities.
"He was a special individual who never compromised anything," Dodd said.
Knorr crammed every last thing into his schedule and always followed through.
"I'd come to the pool and Chris would be at the pool before me," Dodd said. "He'd be curled-up sleeping at the pool."
Dodd said that Knorr had a busy schedule. He would go to swim practice, eat and head to orchestra practice, which wouldn't finish until 10 p.m.
After, he would get his nightly studying in and by the time he finished, he would only have a couple hours until swim practice at 4:30 a.m.
Dodd said he would never forget Chris' last meet.
"Chris knew this would be his last meet, and no matter how bad it was, he wanted to finish the race," Dodd said.
CLU senior swimmer Sarah Forsythe remembered his strong will.
"Chris was a hard working guy with an amazing attitude and a strong passion for swimming and his team," Forsythe said.
The team wanted to commemorate Knorr in a special way by scheduling this meet, sending out flyers and contacting previous team members who knew Knorr.
At the meet, members shared their graduating year, occupation and best memory of Knorr. Each participant grabbed a handful of white and yellow rose petals and threw them into the pool as they shared a moment of silence. The yellow petals represented Knorr, who was known as "sunshine," and the white petals represented "hope in life," according to Dodd. CLU Pastor Melissa Maxwell-Dougherty also led the group in prayer during the meet.
Afterwards, CLU split up into purple and gold teams as they competed in rallies and short-distance races. The memorial was finished off with diving.
"It was such a wonderful and moving experience," Forsythe said. "You could feel the family atmosphere. It was also great to remember Chris through the thing he loved: swimming. The meet was filled with excitement and joy in memory of Chris."
After the meet, everyone was treated to brunch where they exchanged memories and moments of Knorr. Because of Knorr's passion and love for swim and his university, the program was able to host their first ever alumni meet and remember someone who touched all of their lives.
Janella Caravetta
Staff Writer
Published Oct. 23, 2013