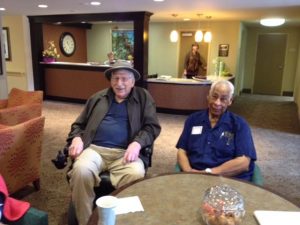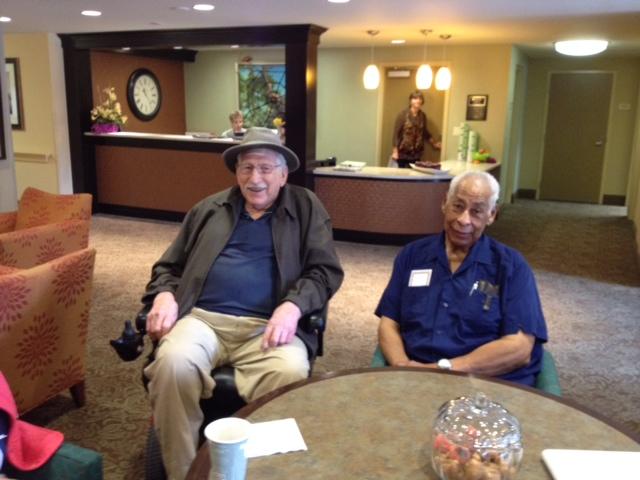 Anthropologist Margaret Mead said, "Never doubt that a small group of thoughtful, committed people can change the world. Indeed, it is the only thing that ever has."
That's what California Lutheran University's Senior Buddies program aims to do. Senior Buddies is an organization run by the Community Service Center to encourage students to reach out to the senior community.
The Senior Buddies program, known in the Thousand Oaks community as The Legacy Project, allows for students and the senior community to meet twice a month. Students act as a "legacy" coach to their senior friends, exploring their identities and discovering and maintaining a sense of purpose and meaning in the lives of senior citizens.
The idea is that as seniors are entering the developmental phase of focusing on what is important, they try to hold onto as much control in their life as they can. Because of this, the senior wants to build a legacy to the world and people they care about. At the end of semester, the student coaches write a summary of what they've learned from their meetings, from which each senior buddy can then share with friends and family.
The Senior Buddies program puts emphasis on the idea that it is beneficial for the students to reach out to the community they live in. It creates a learning experience for both the senior and the student because it allows for both to learn different values. For the student, the program teaches the importance of the "legacy" stage of a senior's life. It helps the student find the truth in what is most important in their lives, whether it be financial, familial or career-oriented.
Senior Buddies began in spring 2012 by senior Wayne Swinson and Annette Broersma, the Reserve Senior Community Center's Community Relations Director. The program allows senior citizens to open up to people who are not their family.
"The way seniors communicate what is truly important to them because it is their imperative at this stage of their lives.  They are driven to establish their legacy," Broersma said. "I created this Legacy Program to match up college students who wish to serve as "Legacy Coaches" to help seniors fulfill this imperative."
"I love helping senior citizens and I figured there had to be some other people on campus that felt the same way," Swinson said.
Christine Trunick, CSC's current intern and 2012 Senior Buddies Legacy Coach said by saying that seniors feel more comfortable sharing certain details about their life with their student buddies.
The students are paired up with senior citizens who share similar interests with them. Trunick made remarks about how convenient the pair of the Buddies were.
"It was really interesting because Annette paired us with a Senior Buddy who was in the field we were looking to go into," Trunick said.
Trunick received two senior buddies.
"They were both in the business field, because I'm a business major. That was great getting to talk with people who have gone into that field," Trunick said. "I didn't just give to them, they gave a lot to me."
Trunick believes that the future of the Senior Buddies program is full of potential.
"We are hoping to expand. Not just in California, but across the United States," Trunick said.
Trunick and the CSC have high hopes for the Senior Buddies program.
"This program was highlighted in a presentation at the City of Thousand Oaks' Council on Aging meeting last spring. Christine Trunick, one of the CLU Legacy Coaches, presented what she learned from her senior – and vice versa her senior from her – at a televised meeting which received a lot of buzz from the city and senior communities," Broersma said. This is just the start. The seniors here at The Reserve are now on a waiting list to get into this program. The need is obvious."
The Senior Buddies program is looking for dedicated people who wish to help the community from all ages.
"Good service opportunities create change and they begin with good habits that crossover into our daily lives," Swinson said.
With a little help, the CLU student body may be able to enrich the lives of seniors who can help build the community we live in.
Jordan Oram
Staff Writer
Published Oct. 30, 2013