Events provide spooky fun for all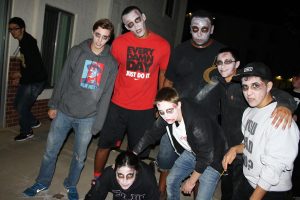 California Lutheran University may be located in a suburban town, but the Halloween attractions available can entertain many students. This year, there are events on and off campus to provide everyone with Halloween experiences.
For those who want to stay on campus, CLU is hosting multiple events. The Halloween spirit kicked off last week with the Zombie Run on Oct. 24, but many events are happening this week.
Hallowellness takes place on Oct. 31 at 11 a.m. in Kingsmen Park. Hallowellness is put on by Wellness Programs to get students to focus on four areas of emphasis: alcohol education, healthy living, sexual responsibility and tobacco and other drugs.
Each service area will have a table where there will be an activity or fun giveaways to get students interested and informed about "what we do and why we do it," said junior Katy Crabtree, wellness intern. Hallowellness will include a free lunch and opportunities to win prizes. It will continue until 2 p.m.
If you're looking for late night fun Westside Promoters, a local student run organization, is throwing Hallowang – a Halloween party and celebration of the founders' birthdays on Halloween. The event will be at the Arena Sports Grill and Bar in Simi Valley from 10 p.m. to 2 a.m. The event costs $10 before 11 p.m., and $15 after that, according to an online statement by Westside Promoters co-founder Connor Treacy. Hallowang will feature DJ Mike G, competitions and surprises.
"Last year, our Halloween party was one of the best events we ever did and we are even more excited for this year's event," said Westside Promoters co-founder junior Noa Bryan in an email interview.
Over 700 people showed up for their event last year, so the organization recommends that you RSVP online and arrive early.
Students who wish to stay on campus can check out HAUNTS, held by The Hip Hop Organization (H20) on Nov. 1 from 9–11 p.m. in the Lundring Events Center. HAUNTS will feature food, dancing, face painting, DJing by Syd Salva and competitions such as a dance battle, a costume contest and a twerk tournament, according to CLU's Student Events Calendar -The Hub. Costumes and dance moves are encouraged.
If you're willing to travel a bit farther, Universal Studios Halloween Horror Nights is occurring now through Nov. 2. CLU students get discounted tickets into Universal, making it $39 per ticket. If students wear college gear, they can also receive discounts. Check out Student Life's Weekly Update for more information.
Producers of "Paranormal Activity" and "Insidious" are creating their own night of horror at an event called "The Purge: Fear the Night" in the Variety Arts Theatre in Downtown Los Angeles. This interactive event asks guests to "perform tasks, help out actors, and be apart of the story instead of just a voyeur where people jump out and scare you," said employee Ryan Lefton in an email interview. "It's not like a traditional Haunted House. It's more like being in a thrill ride and part of an action movie."
The event is for people 18 and over, and features a bar. The event will run until Nov. 2 from 7:30-11:59 p.m., according to the website purgelive.com. Tickets start at $39.
Thousand Oaks may be located in the suburbs, but there are ways to celebrate Halloween.  Numerous events on and off  campus means there are many opportunities to enjoy Halloween.
Danya Migdali
Staff Writer
Published Oct. 30, 2013