A new point of authority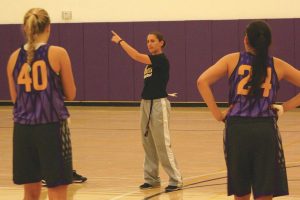 California Lutheran University welcomes a new member to the women's basketball team. Lindsay Goldblatt has seven years of experience as the head coach at Moorpark College and is now bringing her talent to the women's athletic department at CLU.
"I believe that leadership and building good character within a student athlete is the most important aspect of being a head coach," Goldblatt said.
Prior to taking the head coaching gig, Goldblatt played softball, volleyball and basketball at El Camino Real High School before moving on to continue her success as a student athlete at Moorpark College. She played both softball and basketball at Moorpark College before transferring to San Diego State where she kept with basketball and was a walk on point guard for the next two years. Upon graduation, she stayed at her alma mater and was an assistant coach for the Aztecs and took the head job at Moorpark for six years. Her love for the game of basketball hasn't faltered.
Goldblatt grew up in San Fernando Valley and lived there for about 9 years but now resides in the Thousand Oaks area. She knows many alumni from CLU, which was how she found out about the coaching position following the exit of former head coach Roy Dow. She was informed about the successful athletic program provided at CLU and wanted to experience it herself.
"We hope to continue down the path of success in this upcoming season to maintain if not exceed the previous years," Goldblatt said.
The team maintains a steady record and hopes Goldblatt will continue the success. Goldblatt left Moorpark on a strong note as her team ended their season reaching the elite eight in 2012-2013 season. This was the best finish Moorpark had experienced since 1996.
Senior forward Pia Gudmundsen, is hopeful Goldblatt will continue their success and believes that the Regals have a strong team this year with new players and a lot of potential.
The challenges of being a new coach to a close-knit team can be difficult, but the girls see strength in Goldblatt's coaching abilities. She comes from an extensive athletic background, giving herself more credibility for the girls to rely on.
Junior guard Natalie Stone wants to maintain the reputation as one of the top competitive teams in SCIAC.
"Adjusting to a new head coach takes time, but I think the team is starting to figure out what she wants and we are on the right track to a successful season," Stone said.
"The transition from a male coach to a female coach has been the biggest change. It is a whole new coaching style and basketball mentality, which offers a fresh start for a lot of the players, which I believe we can take advantage of and benefit from," Gudmundsen said.
Gudmundsen has played basketball since she was 12 years old and is now playing her final season this year. She hopes to end on a successful note with the help of her coach and teammates.
"My goals for this season are to see the girls better themselves every day, both academically and athletically," Goldblatt said.
The team is hopeful in the success of its season this year. Goldblatt has experience in this sport and is prepared to use all of her knowledge to the best of her ability.
The team has begun practice and will start their season Nov. 15 and 16 when they travel to Oregon to take on George Fox University and Linfield College.
Erin Chisolm
Staff Writer
Published Nov. 6, 2013