Kingsmen show up on Senior Night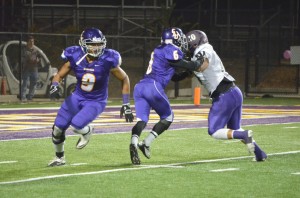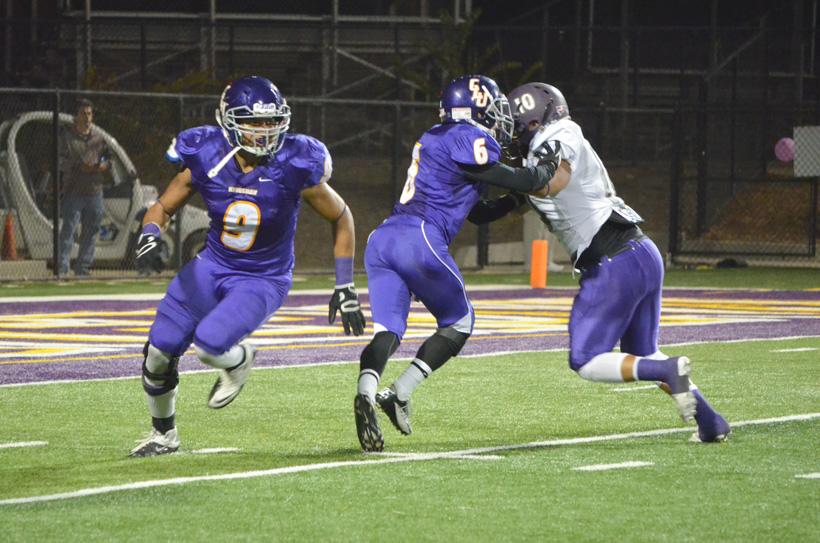 Coach Ben McEnroe of the California Lutheran University football team doesn't believe that leadership is born through seniority. This was proven to be true on Nov. 2 as the Kingsmen underclassmen propelled the team to a 47-10 victory over the Whittier Poets. What started off as a close matchup for the Kingsmen in their senior night game, quickly turned into a field day as sophomore quarterback David Rico got hot and the Kingsmen defenders kept the ball in his hands.
After giving up 10 points to the Poets, the defense sharpened up and forced a punt leading to a touchdown from Senior running back Ryan Zirbel. From that point, the offense took over, scoring 34 points by the end of the first half and tacking on another 13 in the second. Rico produced a stellar performance going 9/10 for  with over 192 yards passing and 154 yards rushing. In the process, he spread the ball to nearly the entire receiving corps including senior wide receivers Kevin Post and Erik Kagan. Defensively, senior linebacker Chris Miller stepped up big with a 3rd quarter pass deflection and several key tackles.
Also, senior offensive lineman Andrew Pankow was given the ball on a goal line rushing situation, which resulted in a touchdown, adding some extra spark to the Kingsmen sideline. Overall, it turned out to be an impressive effort from the team and what seemed to be, according to McEnroe, a "direct result of the kind of energy seen by the coaching staff in practice."
McEnroe wasn't shy when commenting on the class of 2014.
"This year's senior class is different to that in years passed in the way that in previous years, we've just had so much talent," McEnroe said.
Many are familiar with graduated legend Eric Rogers who was responsible for a major leadership role on the team last year.
"We've had a lot of injuries with this year's class and there's been a lot of adversity, as well," McEnroe said. "I really credit these guys for working as hard as they do to have the kind of success that we had tonight."
Senior quarterback Cameron Dean has been sidelined the past three games with an ankle injury, but that hasn't prevented him from making an impact.
"Cameron is one of our key players this year and to have him out right now is frustrating," Rico said. "I've watched how Cam operates this offense and the type of role that he plays out there, so when games like tonight come around and I know I'm going to have the ball in my hands, I really try to use that example to its fullest."
McEnroe also commented on the leadership of the younger CLU players.
"I'm really not a firm believer in the idea that leadership correlates with seniority," McEnroe said. "If I see something in one of the younger guys, I'm going to give him responsibility equal to that of any of the seniors. Andrew Wortlhy is perfect example. He's a young guy that I trust and I want him to be leader no matter what year he is."
This type of attitude is central to the success of Kingsmen football. Junior tight end Alix Moise Jr. is a second year starter primed to be one of the senior impact players next season.
"I think being a senior is a big step in the process, no matter what it puts you in a position where you're getting looked up to and providing guidance for the younger players," Moise said.
This year's seniors are in that very position. It was hard to replace the experience and talent the previous senior class had, but it didn't deter this years from stepping up the best way they knew how to. Nov. 2 will stand as a memorable win for the class of 2014 who haven't had the success it was hoping for this season, but it gives them momentum heading into its final two games at CLU.
Peter James
Staff Writer
Published Nov. 6, 2013