Building a dynasty of their own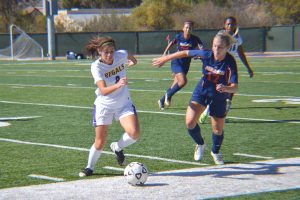 The California Lutheran University Regals soccer team are the Southern California Intercollegiate Athletic Conference champions for the fourth straight year.
As their final game approached, both CLU and Pomona-Pitzer had an 11-2 record in SCIAC play. But, the Regals were determined to continue their winning ways, especially the seniors, as they defeated the Sagehens 4-1 on senior day on Nov. 2.
Before the game, seniors Stephanie Gilbert, Kristina Hulse, Anna Medler and Bailey Marquez were honored in front of the home crowd. All four have now won the SCIAC title in every single season they have played at CLU and Head Coach Frank Marino couldn't be more proud of them.
"Four championships in four years doesn't happen very often," Marino said. "It says a lot about the seniors that we have on this group. Through their tremendous leadership, they have helped us win over the past four years."
Winning their final home game of the regular season wasn't a bad way to go out either as they are now the number one seed heading into playoffs.
Junior forward Taylor Will started the scoring spree in the 22nd minute as she snuck away from her defender to receive a through ball in the air from Gilbert, before placing it into the corner of the net.
The next goal came from Hulse who nearly replicated the first goal as she put the ball in the same corner of the net with ease. Heading into halftime up two goals to none, the Regals had the control and momentum of the game.
Two minutes into the second half, Will received a pass from Hulse on the 50-yard line. She then dribbled the ball all the way to the box and kicked it over the goalkeeper's head to get her second goal of the day. Pomona-Pitzer answered back with a goal of their own in the 62nd minute, but their hopes of a comeback were dampened ten minutes later when freshman forward Nicole Campbell scored the fourth and final goal for the Regals off a CLU corner kick.
With her fourth SCIAC title in the books, Hulse is already thinking about what's next for the team.
"These past couple of games we have been looking to improve and reach that next level that you need for playoffs," Hulse said.  "We need to continue in that direction and have a good hard week at practice, and hopefully the result will come through. I think we're headed in the right direction mentally. We know this is a good win but we have to move forward at the same time."
Hulse has played with the Regals for all four years, appearing in 85 total games. With her 24 assists, she is fourth all-time in CLU's record books. She has also put in 37 goals, 14 of them coming this season alone. In 2010, she was selected to the National Soccer Coaches Association of America All-West Region Team and received two All-SCIAC honors.
Anna Medler has been one of the strongest defenders CLU has ever seen. In her 83 games for the Regals, she has earned NSCAA Second Team All-West Region honors and SCIAC All-Academic honors.
Marquez transferred to CLU two years ago from Saddleback College, and has proven to be a major impact for the team. Marquez has been orchestrated the offense in the midfield as the Regals have been the top scoring team in their conference each year she has played.
Gilbert also transferred two years ago from Pierce College and has played in 42 games. Last year, she received NSCAA First Team All-West Region and First Team All-SCIAC honors. Along with Medler, she was a part of a defense that only allowed four total goals in SCIAC last season.
"I transferred a lot and the one thing that has become apparent is that I found a home here," Gilbert said.  "CLU has really captured everything that I wanted for my soccer career, family and friends. It ended up being a home that I am really happy I came here for and being able to support the team and play here was great."
"It's been an amazing experience. I can't even describe the friendships you make along the way, the tears you get from losing and the hard work everyone puts in to just come out and do something great," Hulse said. "I think I have been blessed for four years to be a champion with this group. It's been unbelievably amazing and I am so glad that I chose to go here."
The Regals will host Chapman University in the first round of SCIAC playoffs on Nov. 7 at 7 p.m. at William Rolland Stadium. They will continue on into the weekend if they beat the Panthers.
Evan Engel
Staff Writer
Published Nov. 6, 2013