Doodle Bug puts pen to paper for hands in need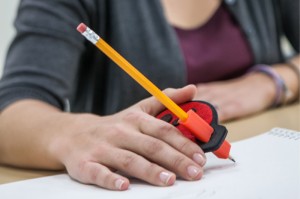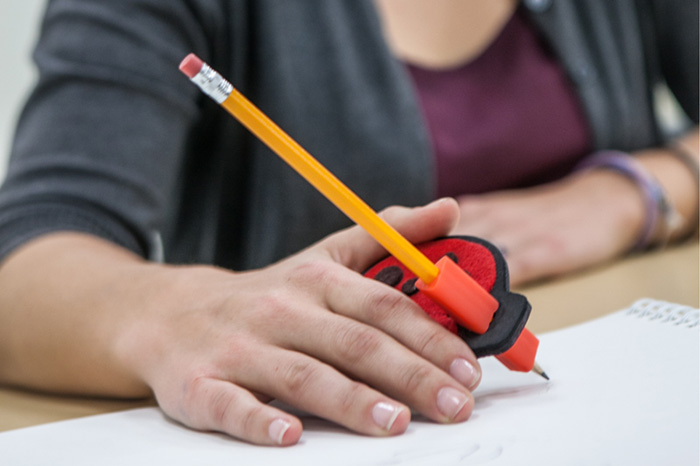 Many people take the ability of writing for granted. For those who do not have this tool, eight former California Lutheran University graduates want to make the impossible possible.
Graduate students and former CLU students who have earned credentials specializing with the deaf and hard-of-hearing have invented a way to make the writing and learning possibilities for those with disabilities.
According to CLU News, "The CLU student-inventors are all teachers who earned credentials to teach the deaf and hard-of-hearing and are pursuing master's degrees in education of the deaf through a Graduate School of Education program based in Woodland Hills."
The Doodle Bug resembles what it sounds like. According to CLU News and Information, the original design consisted of a "flat wooden ornament, ball-bearing caster, pencil grip and felt" to look like a lady bug. The Doodle Bug was created for a 2 year old child with a severe cleft hand.
Soon after, the inventors realized the potential behind their invention. Not only may it benefit the disabled, but it could benefit the average American citizen, as well.
People recovering from broken hands and fingers could use the Doodle Bug to write.
The Doodle Bug was named "most likely to become commercially available" according to CLU News and Information and recently took home a $5,000 National Institutes of Health project-development grant and a $500 cash prize the at 2013 Rehabilitation Engineering and Assistive Technology Society of North America Student Design Competition in June 2013.
RESNA President Alex Mihailidis who has a doctorate degree in physical engineering, explained the competition on the RESNA website, stating, "RESNA has a rich and diverse history in the fields of assisted technology and rehabilitation engineering. Starting from a group of a few dedicated members it has grown into the premiere organization for professionals and researchers with the common mission of maximizing the health and well-being of people with disabilities through technology. Our collective mission is being realized through our annual conference, certification programs, educational offerings, and communication between us using tools like our website. We are continually working towards using new tools and innovations to help connect our ever-growing community."
Edging out schools like Chalmers University of Technology in Sweden, Coventry University in the United Kingdom and Loyola Marymount University, CLU was one of six finalists to present their innovative creation to engineers and manufacturers in the competition held by Translation of Rehabilitation Engineering Advances and Technology and the National Science Foundation.
Thousand Oaks resident Samantha Bass heard about the Doodle Bug and thought highly of the idea.
"Even if you don't have a disability, people in offices or anyone that has to do writing with arthritis or carpal tunnel syndrome will help them. Even if you are just doing your crossword puzzles or something, it reaches out to all age groups which is beneficial and very marketable," Bass said.
With the help of the Doodle Bug, writing may become easier than ever.
Nicho Dellavalle
Staff Writer
Published Nov. 6, 2013