Freeing the girls to help free girls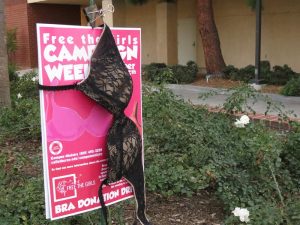 Women across the United States have dug through their drawers, picked out bras that don't fit and shipped them to Africa, giving them to rescued sex slaves.
The Free the Girls global campaign began in August 2010 and has partnered with safe houses and after-care facilities which provide caring for the families of rescued women and offer young girls the opportunity to go to school. The organization seeks donations of gently used bras, which are then sold by the rescued women and girls. This provides them with a form of income and business. Since the project began, more than 200,000 bras have been collected, according to the Free the Girls website.
There are approximately 27 million men, women and children worldwide who are currently held as slaves. There are several organizations that help rescue people from slavery, but according to the Free the Girls website, once rescued, they don't have anywhere to turn.
"I learned about it from a woman within our community, who was trying to get people to donate gently used bras and I thought this would be a fun thing to bring to campus ministry," campus Pastor Melissa Maxwell-Doherty said. "I shared it with my two student interns and they caught the vision and took off."
An introductory barbeque was held by campus ministry on Oct. 26 to inform people about the campaign. On Nov. 13, student volunteers will visit residence halls between 7 and 9 p.m. to collect bras that will be sent to rescued women in Africa and other countries, Maxwell-Doherty said.
"I think this kind of campaign on campus fosters CLU's spirit of giving to others," said junior Mollie Winninger, the lead intern for the campaign on campus, in an email interview. "It connects the women of campus together for a cause and it's something approachable and easy for each one to do. We're tapping into the graveyard at the back of each woman's underwear drawer and changing a life."
The rescued women sell the bras, which are sought-after items in many countries, allowing them to make 3-5 times the minimum wage in their area. Selling bras also allows the women to work in women-only environments and allows them to avoid men, who are in most cases, the ones abusing them, Winninger said.
"It's something so easy for us to do-take a bra out of the back of our drawer and pop it into a box," Winninger said. "But, for the woman who receives it, it's part of her livelihood, her new life and her healing."
Senior Allison Westerhoff, a campus ministry intern working on the Free the Girls campaign, said it is also important for the male population on campus to realize that they too can help make a difference in these women's lives.
"The really cool part is that guys can donate money for the bras to be shipped. It's really important because women, we have the bras, we can supply them," Westerhoff said. "We're really going to try to encourage men to donate whatever they can whether that be a few quarters or a couple dollars because it goes a long way when we're shipping the bras."
Free the Girls accepts gently used bras of all sizes and styles. The organization encourages people to consider making a monetary donation if you don't have any used bras to donate.
For more information on which bras are acceptable, to donate money or find a bra drop off location, visit freethegirls.org/donate/give-bras.
Mayra Ruiz
Staff Writer
Published Nov. 13, 2013