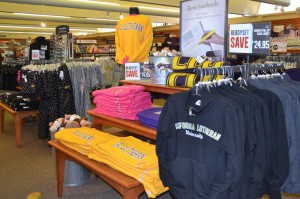 On Nov. 20, the California Lutheran University ASCLU-G, along with the help of the campus bookstore, will hold the university's 3rd campus clothing exchange.
The concept behind the exchange is simple. Students bring any article of clothing that is wearable, and in return, they are granted up to $25 in store credit (valid for clothing items only).
The event is geared toward providing clothes for charity. However, according to bookstore manager Jeremy Levenberg, the exchange is really a "win-win situation for students and the community alike."
After a successful series of this same event at other schools, Levenberg proposed the idea to the ASCLU-G in 2012.
In hopes to continue the good nature of giving back to the community, along with providing an opportunity for students to purchase some school spirit, Levenberg and the student government created the now titled "Exchange for Change" event.
Sophomore ASCLU-G senator Caleb Arndt expressed his enthusiasm behind the opportunity.
"This event is awesome for all parties really. As a senator, a lot of the work that we do takes place behind the scenes so it gives us an opportunity to really get out here and make an impact," Arndt said.
Arndt and his fellow senators were approached with the opportunity to host the exchange last year and took advantage, hoping to influence the student senate toward a more philanthropic approach to government.
Seeing how last semester's exchange proved to be a success, ASCLU-G is working to keep the momentum going.
"Last year, we were happy with how many people showed up and contributed," Arndt said. "We're going to be using Facebook and posters on campus to help raise awareness."
According to Arndt, several people last semester were unaware that the event was even happening.
"So when they saw us on campus they had to rush back to their rooms and get their clothes last minute", Arndt said.
ASCLU-G is hoping that by raising awareness, they can avoid last minute interest and increase the overall attendance.
Although this year's selected charity is yet to be announced, previous years have donated to "My Friends Place" in Hollywood and Rio Hondo Elementary in Oxnard, Calif.
Levenberg emphasized the importance of donating to local organizations.
"I think it's awesome to have the charities involved because it provides needed goods for our community directly," Levenberg said.
If the event continues, Levenberg hopes parties can establish consistency with the organizations for future events. The ASCLU-G senate will accept any article of clothing as long as it is wearable.
The booth will close after 3 p.m., so students are encouraged to arrive on time to exchange their clothes.
"Any kind of clothing is acceptable, but it's nice to get ones that are generally more durable. That way, the people who are receiving them could potentially use them for a long time."
ASCLU-G plans to repeat the exchange next semester, but students are encouraged to take advantage while they can.
Peter James
Staff Writer
Published Nov. 13, 2013