Heartbreak in Holland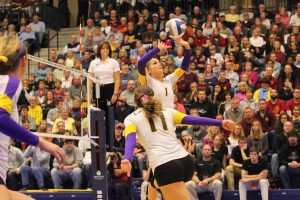 On Nov. 23, the California Lutheran University Regals competed in the NCAA Division III Women's Volleyball National Championship in Holland, Mich. CLU handled Clarkson College 3-1 and UW-Stevens Point 3-0 to reach the finals. Their title run fell short as they squandered a 2-0 lead, losing in five sets (25-20, 25-12, 22-25, 17-25, 18-20) to the Calvin College Knights, making the Regals the national runner-up.
Although the Regals didn't win the championship title, they still made CLU history.
According to CLU's website, "The 35-2 showing [record] was the best in school history and this team matched the greatest NCAA performance in CLU history by equaling the 1995 team that was also national runner-up in this tournament."
Looking back on it now, players are sorry they weren't able to bring CLU its first ever team national title.
"It's hard to look back on it now just because we did lose such a close game," said Lauren Rohach, senior middle blocker. "We still did do something pretty incredible. I guess just now it's still fresh in our minds."
While it might not have been the ending they expected or wanted, CLU players tried to look at the bright side of the trip.
"It was a lot of fun. It was really cold and it snowed our last day there, the day of the championship match, so that was fun," Rohach said. "There were a few girls who hadn't seen snow, so it was definitely a different experience."
Along with regular practices, the team bonded while they enjoyed watching the fresh snow fall and getting breakfast.
Senior middle blocker Hayley Tamagni agreed that the experience was a positive one.
"It was definitely an experience none of us will ever forget and the NCAA did a lot of cool things for us to make the trip memorable," Tamagni said.
Only a couple days before leaving for Michigan, the team was in Texas for regionals. After losing the first game to Trinity University, the Regals won the next three consecutive games, allowing them to advance to nationals, less than a week later.
"The trip was amazing because we got to spend every day together all the time for two weeks," said Jackie Russell, senior setter. "The games were intense, which also made it so much fun."
The ultimate goal, however, was to make it to nationals. The Regals did that and didn't allow the big stage to get to them.
"We play every year to finish up on that championship game. We had some jitters, especially the first game, because we were so nervous about getting there, but we knew how good we could be and we knew our potential," Rohach said. "We knew that Calvin was a really good team and that it was going to be a fight. It was awesome going up 2-0 and getting our confidence up and it was an amazing crowd."
"As a team, we played three of our best games of volleyball. Playing that great in the most important games of the season was definitely a great thing for us. It was cool to make history and see the entire school rally behind us," Tamagni said.
The historical run is one the team will never forget. With four major players graduating (Kylie McLogan, Rohach, Russell and Tamagni), the experience will be a stepping stone and momentum builder going into the 2014 season.
Janella Caravetta
Staff Writer
Published December 11, 2013