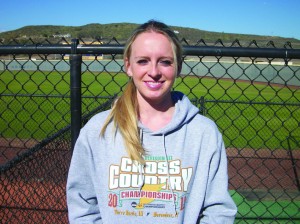 Melissa Skiba, senior at California Lutheran University, ended her cross-country season on an all-time high. Running a 6k in Hanover, Ind., Skiba finished in seventh place out of 269 participants.
"I wanted to get top 15 in the national championships, but I was not expecting to do as well as I did," Skiba said.
Skiba attended UCLA for her first two years of her undergraduate degree, but with a change in major, she found herself relocating to CLU. She also wanted to get out of the big university and enjoy the small school atmosphere that CLU provides.
She ran cross-country and was involved with track and field at UCLA, but her decision to transfer was not based on her athletic career. Her education came first in this decision and her teammates could not be more thrilled to have her.
"It is so motivating to watch the hard work that Skiba puts in and to experience the benefit she gets out of running. I am honored to call her a teammate and to run with such a determined athlete," said Natalie Bullock, senior team captain for the Regals.
Skiba has been involved in cross-country and track and field since her freshman year of high school and she is coming to a finish with both seasons this year. She went to nationals last year, as well, and this year and is hoping that when track and field starts, she will make it to the championships once again. For the last two years, her performance has been pretty consistent and she is happy with the results.
"It feels so weird to be done with cross-country for good. It makes me feel old," Skiba said.
Senior Ashley Frese, was also involved in the national championship. This was her first year at the competition for cross country, but she has attended the past two seasons for track and field. Although she didn't place as well as she would have liked due to visionary problems during the run, she was happy to say that she made it that far.
Frese roomed with Skiba the night before the race and tried her best to keep Skiba's head up. As Skiba's roommate, she wanted to reassure her that she would do well. The night before the race, participants attended a banquet, which was one way they found relaxation. They got to meet some of the competitors before the big day.
"Melissa was nervous as she looked at the other girls' times, but I just tried my best to reassure her that whenever she is faced with fierce competition, she has always pulled through," Frese said.
Her training for cross-country has ended, but she is now focused on track and field. Morning weights have not started yet, but she will continue to run and get in her daily exercise to better prepare herself for the rigorous season ahead.
Track and field is her favorite out of the two sports, so she is hoping to perform exceptionally well. She will graduate in May 2014 and hopes to find a steady job to start a new chapter in her life. Her career as a student athlete may be over, but she may consider coaching in the future.
Erin Chisolm
Staff Writer
Published December 11, 2013