Taking it one step at a time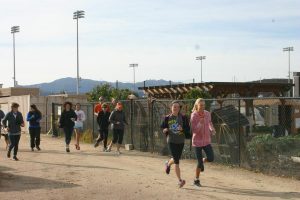 Over winter break, most California Lutheran University students return home for the holidays. For the Students for Enlightenment and the Education of Sustainability for Haiti club, winter break will consist of traveling for three weeks to help people in need.
On Dec. 27, the SEEdS for Haiti club will go to Haiti and stay in four different rural villages. They will help the local people set up sustainable agriculture, water filtration, education, soccer camps and basic medicine.  The 12 CLU students who are going will return  on Jan. 17.
SEEds for Haiti President, Ryan Glatt, said that the students purchase most of the supplies needed for their projects in Haiti and hope it will help stimulate the Haitian economy.
Glatt is also the director of programs and advancement for Hands of Light in Action, a off-campus non-profit organization that focuses on assisting people in need.  With the collaboration of both parties, Glatt sees the positive spirit of the trip.
The group will stay in the same living quarters as other villagers.
"If they're staying in tents, we're going to be sleeping in tents. If they're staying in mud huts, then we're going to sleep in a mud hut. The ultimate form of understanding disaster relief is accompaniment," Glatt said.
By living with the villagers, Glatt hopes the group will be able to analyze the needs of the village and will build their projects around them. A few projects include small scale gardens and plants along with activated carbons for water filtration.
Glatt also began making water filtration devices at CLU.
"We built a water filter made out of PVC pipe and a sand filter in just 20 minutes. We filtered the stagnant water in Kingsmen park with it and we're going to teach the people how to do it there," Glatt said.
"There is no difference between the things we learn here and the things we're incorporating there, except for being in a different environment."
In order to raise funding for the trip, several donations have been made from parents, the Associated Students of California Lutheran University's Government, funding websites and other fundraisers set up by students.
Vice president of the club, Benn Lewenstein, set up the Trail Run for Haiti event on Dec. 8, where students could either run a 3k course for $10 or a 5k course for $15.  According to Lewenstein, all the money went toward the trip and he also showed participants how to donate through the organization's website.
According to Glatt,  everyone and anyone who is willing to help can, even if they can't go on the trip.
Senior Michael Hooten, one of the volunteers going to Haiti, is excited for the opportunity. He will be in charge of water filtration projects in Haiti.
"It's a great opportunity to make a difference in the world before I even graduate. You don't realize that you're putting off an opportunity like this until later in life when it hits you in the face. We have the opportunity to do it now, so why not," Hooten said.
Junior Berlin Galvan, who is in charge of media relations for the trip, volunteered to go for similar reasons.
"I think it's really important for those who don't get representation to still get help. I feel Haiti is very unrepresented and after hearing it was the poorest nation in the western hemisphere, it had me really concerned and I wanted to just jump in and help," Galvan said.
Glatt hopes the trip will teach both global and local lessons and will be a holistic collaboration of the university.
To learn more or help out, visit www.rally.org/handsoflightinaction or email Glatt at [email protected].
Evan Engel
Staff Writer
Published December 11, 2013