New look, same expectations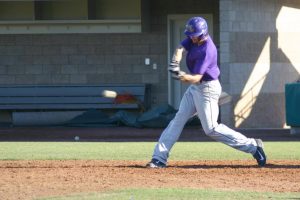 Last year was one to remember for the Kingsmen baseball team.  California Lutheran University won their 10th SCIAC Championship in school history and made it to the third day of the NCAA Division III West Regional Tournament before falling to Texas-Tyler.  The NCAA deemed them the Division III statistical champions in batting average, runs per game and on base percentage while garnering nine All-SCAIC players, including three All-Americans.
However, the 2013 squad bid farewell to eight seniors, including Nick Boggan who hit 13 home runs and brought in 67 RBIs. With last season behind them, the 2014 team will have huge cleats to fill at the plate.
The Kingsmen start the season ranked No. 10 by the Collegiate Baseball Newspaper, partially due to the return of the entire pitching staff, including junior left-hander Scott Peters, who went 8-1 last season.
"On the pitching side of things, we have everyone returning. On paper, it looks fantastic and looks to be a repeat of last year, but of course, you can't just go on paper, you have to go out and make your pitches and execute," Peters said.
As far as hitting goes, the Kingsmen will introduce new faces and an almost entirely new lineup, led by senior infielder Nicho DellaValle.
"We're going to put up runs, we're just going to have to do it in a different way," DellaValle said. "Small ball will be our thing. Moving runners over, knowing your situation, utilizing base running and just the small things to get runs across the plate."
DellaValle and senior outfielder and pitcher Jake Peterson will be two of the seniors counted on to lead the team and perform as they did last season.
"We just have to bring the mentality back to this team that we had last year, playing for each other, knowing your role on the team and fulfilling those expectations that everyone sees," DellaValle said.
As expected, there will be new faces on the field.  Freshman infielder Austin Kay is expected to get much playing time as well as sophomores Davey Casciola and Ramsey Abushahla.
The game plan for the Kingsmen will also be revamped as they find new ways to bring runs across the plate.
"We are going to be way more aggressive than we were last year," said Peter Schmitt, assistant coach for the Kingsmen. "I think the games are going to be a lot of fun for the students and fans to watch. We're going to steal a lot, hit and run, all kinds of stuff that we didn't do last year."
The key for the Kingsmen is starting their new offense strong in the early part of their schedule where they will face tough competition.
"Early in the season, we need to figure out what our identity is.  If we come out strong, that's just going to set us up to be successful. Hopefully, all the students show up to support us like they did last year and we'll have a good year," Schmitt said.
While the 2014 team has great expectations, the mood of the team remains positive and the players are determined to maintain this level of play.
"It's just going to come down to who wants it more," Peters said.  "If we can come out as a staff and show the rest of the SCIAC that we want it more, we'll see some good things."
The Kingsmen open the season Feb. 8 as they host Emory College for a double header at 11 a.m.
Jase Magarifuji
Staff Writer
Published Feb 5. 2014