Regals using last year's momentum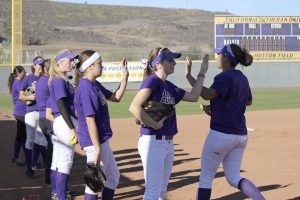 The California Lutheran University softball team is hoping for a strong start to their 2014 season, picking up where they left off in 2013.
"We ended last season very well. We were on a hot streak, winning 13 out of 17 games in the second half," said Kayla Sakamoto, senior outfielder for the Regals.
Returning players Kelly Lockwood, Katelyn Downing and Sakamoto are key to the team's success.
Lockwood's first season as an infielder was in 2013 and she is excited to return this year. She led the Regals in every offensive category last season with a .345 batting average, 39 hits, 10 doubles, three triples, five home runs and 29 runs batted in.
She was tenth in SCIAC for her 29 RBIs and fourth in SCIAC with her .619 slugging percentage.
"Last season we ended really strong," Lockwood said. "We were one of the hottest teams. We were only two games short of making it to the tournament so I think that gave us some momentum to continue working hard."
During the off season the team conditioned and worked hard to stay in shape and start this season better than last year's.
"We know that this year we need to start off strong so we don't put ourselves in a hole like last year," Sakamoto said. "We kept in shape by doing our lifting program as well as continuing to go out to the field and practice so that we start this year in better shape than we did last year."
"As a team, we need to keep our energy up and confidence up. That was really all we were lacking in the beginning of last season," Lockwood said.
Senior pitcher Downing was one of the top two players in the conference last year.
She ended the season with a 4.42 earned run average and led the Regals with 41 strikeouts and 11 complete games.
"Supporting each other and picking each other up is what we do best," Downing said. "When practice is rough, we find a way to bring it all together and make improvements."
She hopes the team will be proactive rather than being reactive this season.
Sakamoto excelled defensively as CLU's primary center fielder with a perfect 1.000 fielding percentage and had the third most hits on the team with 34.
"Success isn't merely from wins and losses, it's about improvement," Sakamoto said. "As with any other team sport, a team has to work together and feed off each other. Our team is already jelling and getting along well, but we still need to learn each other's abilities on the field."
Lockwood, Downing and Sakamoto are excited to see how far the team will go this season.
"I have a lot of faith in these girls and know we will succeed," Lockwood said.
Debby Day completed her eleventh season as head coach in 2013 and hopes to have continued success at CLU.
"This group shows up everyday with great attitude and work ethic. They are really dedicated," Day said. "We have fantastic chemistry. I hope if you watch us you will see not just great softball, but also joy and enthusiasm on the field."
The Regals opened their season Feb. 3 with a double header against Whitworth University. The Regals won both games, giving them the exact start to the season they were hoping for.
Shannon Cullen
Staff Writer
Published Feb. 5, 2014