Big losers strive to become big winners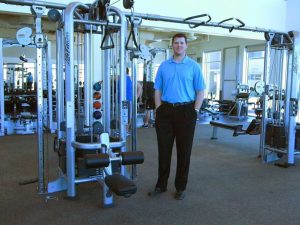 Learning about health, nutrition, body fat and weight loss can be challenging aspects to apply to everyday lifestyles; but, Elizabeth Manuel, Paul Hartmann and Cecilia Calderon are striving to make this semester a learning experience.
Manuel, coordinator for student involvement and wellness programs, and Hartmann, coordinator for recreational sports, have put together a 10-week program called "CLU Biggest Loser Competition" to help students and faculty learn how to live a healthier lifestyle.
"We want to provide others with the knowledge of how to live an active, yet healthy life in the proper ways," Hartmann said.
A syllabus has been created for participants to gain valuable information on subjects, such as water intake, nutrition and goal setting. The 65 participants will need to attend at least seven out of the 10 meetings with their coaches in order to qualify for the awards granted at the end of the program. There will be a moderate fitness test during the first and last week of the program with weigh-ins every week.
The participants evened out with about a half and half split of students and faculty. The coaches will assist the participants with motivation and information to help them with weight loss, a decrease in body fat and overall participation. Calderon, a junior exercise science major, is enthusiastic for the program to begin because she wants to help mentor her group.
Manuel and Hartmann understand that the participants will need to walk before they can run and want to make this challenge a way to start a path to a healthy way of living.
On the television show "The Biggest Loser," participants have intense and strict diets they must follow and hard core works to fulfill their weekly challenges. Some of those challenges consist of stair climbers and free fall challenges.
However, CLU's "Biggest Loser Competition" is not this intense. The campus challenge is based on information to help kick-start future workouts. Participants will not be expected to complete impossible workouts or strict diets. Hartmann and Manuel have created this program to help inform others of what they can change to make themselves healthier and more active.
"I am so excited for this program to finally start because we began working on this last July. Now, we get to sit back and watch how the results turn out," Manuel said.
The hope is that each participant will finish all 10 weeks and see successful results. Manuel and Hartmann want to use this as a motivational tool.
The participants will have a calendar of events that will count for their weekly activities and will need signatures for the farmers markets, exercise classes or group activities that they participate in. There are three awards at the end of week 10 that will be given.
The first prize is for one male and one female who had the most weight loss. The second prize will be for one male and one female for the highest percentage lost in body fat. The final prize will be awarded to the one participant who was involved in the most activities and had the most signatures on his or her weekly cards.
"I am most excited to see how my group and all the other participants learn to better themselves throughout this program," Calderon said.
Coaches are assigned to groups to help build confidence and knowledge for the students and staff. Calderon, in particular, is anxious to inform the participants about food labels and what specifically to be looking for while eating.
With the CLU Biggest Loser Competition, the results that Manuel and Hartmann truly want to see is a lifestyle change, not just a 10-week contest and then have them fall back into the same habits. This is a program to jump-start what will hopefully create a change in participants' everyday life.
Erin Chisolm
Staff Writer
Published Feb. 5, 2014