Students serve in Haiti over winter break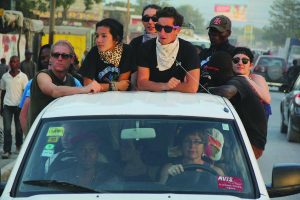 While most students were home enjoying their family or binging on Netflix over Christmas break, a group of 12 California Lutheran University students travelled to Haiti to do service in a country still devastated by the 2010 earthquake.
They are all part of the Students for Enlightenment and the Education of Sustainability (SEEdS) for Haiti club at CLU.
They worked closely with an organization called Hands of Light in Action (HOLIA), which is a nonprofit dedicated to improving the lives of those in need, both domestically and abroad.
Club President, Ryan Glatt, discovered HOLIA and recognized the needs of the Haitian people suffering without clean water, basic buildings or education.
He started researching how he, as a student, could make a difference.
"If a family member is sick, you are going to find out everything about their disease no matter what your major or career is. It's just what you do when you care," Glatt said in an email interview.
With a group of CLU students and 20 Haitian volunteers, the team sought to do whatever was needed in the areas of Haiti still struggling to rebuild after the earthquake.
They did construction, taught English classes and soccer camps and set up water filtration systems.
"I felt like I was learning how to coordinate a service-trip, a big one, really, really fast. But it became so important to me; it was then a priority to not only make the trip happen, but make it the best trip it could be," Glatt said.
However, the biggest accomplishment was passing on knowledge of these skills to the local people.
The group also got a chance to build those relationships in many different environments.
"It was important that we built relationships along with building the projects," said Glatt.
"[The Haitian volunteers] had such high hopes for their country and really inspired all the Americans to do the most they could," said junior Berlin Galvan, another student on the trip.
Galvan and Glatt both commented on how excited the Haitian people were to be able to bring back vital technology to their own communities.
"They have all the potential in the world; all they needed was a hand," Galvan said.
SEEdS for Haiti club is only one of the ways that CLU students can live their passion for service and social justice.
While the student organized service trip is a relatively new concept at CLU, the Community Service Center Coordinator Karen Schomaker thinks they're great. She thinks that seeing students engaged is really the important issue.
"Service is more than these one-time events at the flagpole…Service is a main part of [student] life here on campus…through class, on their own, through the service center, in their own way," said Schomaker.
Glatt said that after the Haiti trip the SEEdS club will be focusing on increasing awareness about the importance of global service.
All of the students agree there's always more work to be done.
Megan Callery
Staff Writer
Published Feb. 5, 2014