Not the ending CLU had written up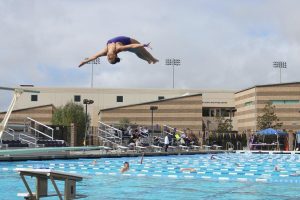 Looming rain clouds and cold winds did not stop the California Lutheran University swim and dive team from giving it its all on Saturday.  The Kingsmen and Regals battled hard throughout the day, but were edged 150-148 by the Whittier Poets.
"I really felt the team performed well as a whole and the seniors did a great job and showed a lot of leadership," said Tom Dodd, head coach for the CLU swim and dive team.  "We had some people sacrifice and swim in events they normally don't swim and they came through."
CLU began the meet by taking first place in the women's 200-yard Medley Relay, which featured junior Mary Wakabayashi and seniors Shelby Brooks, Kelli Miller and Alvina Wong.
Brooks followed her relay performance with a first place finish in the women's 100-yard backstroke. Fellow senior Aaron Waters duplicated her efforts, coming in first in the men's 100-yard backstroke.
Senior Sarah Forsythe added in a pair of her own first place finishes in both the women's 50-yard freestyle and the women's 100-yard freestyle.
"You have to get in and give it your all for those 50 to 55 seconds that you're in the pool.  You have to have confidence in yourself," Forsythe said.  "A quote that went through my head was 'your legs aren't giving up, but your mind is giving up so keep pushing forward.' You just have to have that momentum to keep going."
Senior diver Sheyenne Machida took home first place in both the women's 1-meter dive and the women's 3-meter dive while junior Ryan Brem placed first in the men's 1-meter dive.
The Kingsmen quickly jumped back in the water as freshman Zach Loza and seniors Tyler Berg and David Sparks would finish second, third and fourth in the men's 100-yard freestyle.  Berg would also close out his final home meet by placing second in the men's 50-yard freestyle.
"Everybody swam really great.  We've been putting a lot of training in and it was the last dual meet of the season, so everybody put up some pretty good times," Berg said.  "I'm pretty happy with the way everybody swam."
CLU would close out the day with a first and second place finish in the men's 400-yard freestyle relay.  Freshman Dominic Barriere, sophomore Luis Burgos and juniors Ethan Flyer and Mike Potter finished in first place with a time of 3:15.64.  Loza, Sparks, Berg and senior Chase Miller finished right behind them with a time of 3:16.43.
Despite the loss, the Kingsmen and Regals' spirits were not dampened as they honored 16 seniors who swam their last home meet.
"It's our biggest graduating class in history.  They've had a huge impact on our program and our team.  You can't replace them," Dodd said.  "They're really good people that I'm going to miss.  Unfortunately, it's going to be hard to replace them, but that's kind of what we're all about, getting them into school and having them graduate."
"It definitely was a joyous time but also kind of emotional since this is our last meet here at home," Forsythe said.  "We want to carry on the tradition of having fun and having good sportsmanship."
CLU will head down to Commerce, Calif. on Feb. 20-23 for the 2014 SCIAC Championships.
Jase Magarifuji
Staff Writer
Published Feb. 12, 2014