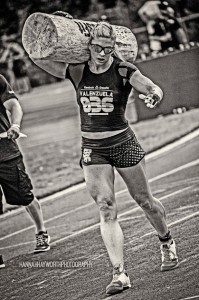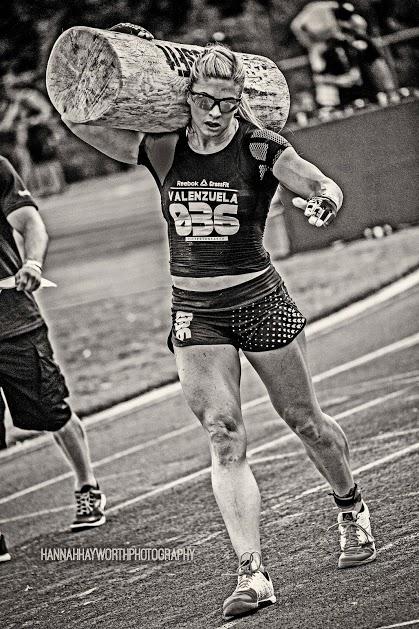 Passionate, intense and strong are just a few words that come to mind when describing former California Lutheran University volleyball player Lindsey Valenzuela. In 2013, Valenzuela was deemed CrossFit's second "Fittest Woman on Earth."
Valenzuela graduated from CLU in 2009 and was a four-year varsity letter winner and captain for the Regals in 2008. She was named an AVCA First Team All-West Region athlete and was a two-time first team All-SCIAC athlete both as a junior and senior. Valenzuela was named to CLU's All-Decade Team in 2010.
Head coach Kellee Roesel has been at CLU for eight years. When Roesel began coaching, she inherited Valenzuela as a sophomore.
"Lindsey was recruited as a setter, but I used her as a right side player. She came to me at the end of her sophomore year and said to me, 'I will be the starting setter next season,'" Roesel said. "She is the fiercest competitor I have ever seen and when she says she is going to do something, she gets it done."
Valenzuela came to CLU with a background in Olympic weightlifting. She then transitioned into the sport of CrossFit shortly after graduating. CrossFit is a hybrid of Olympic weightlifting, gymnastics and endurance. CrossFit is constantly varied functional movements performed at high intensity.
"You'll never believe how hard a five minute workout can be until you do Fran. Fran is the notorious benchmark girl workout that is a couplet of thrusters and pull-ups. Lindsey makes Fran look effortless. She has done Fran back to back three times, each set in under five minutes. Most people struggle to do one five minute Fran, let alone three back to back," said Sloane Thomas, who is currently training for the 2014 CrossFit Games at DogTown CrossFit.
"CrossFit isn't just a sport, but it's also a way of life. A big component to CrossFit is the community it forms which is part of what makes CrossFit so effective. It's about applying confidence and discipline that is built in the gym to everyday life," said Austin Lind, who trains at CrossFit Phoenix in Scottsdale, Ariz.
Valenzuela finished 34th at the CrossFit games in 2011 and 9th in 2012. She is currently ranked 2nd in the world behind her training partner, Samantha Briggs. According to Dusty Hyland, owner of DogTown CrossFit in Culver City, Calif., Valenzuela credits her jump from 34th to 2nd to her improvement in gymnastics and endurance under his training.
"Lindsey made such rapid improvements by working on a combination of gymnastics, weightlifting and CrossFit," Hyland said. "We really focused on technique and consistency in great detail."
Valenzuela quickly became a breakout star in the CrossFit world and was recognized as one of the strongest women competitors.
Valenzuela dead lifts 395 pounds and clean and jerks 245 pounds. This brought about her renowned slogan: "Lift Like Lindsey."
"Lift Like Lindsey" may be her sponsor given slogan, but her personal motto is "believe." As a captain of the volleyball team, Valenzuela came up with her motto, "believe," prior to her senior season at the request of Roesel. The meaning behind it was to believe, believe in herself, believe in her team and believe in the coaches. Valenzuela has taken her belief further than her volleyball career and translated it into earning a 2nd place victory at the CrossFit Games. Believe is still written across the Regals volleyball team's practice jerseys.
"She's relentless, absolutely relentless, she sets goals for herself and is persistent and completely dedicates herself. She sacrifices everything to make what she wants happen," Roesel said. "She believes completely in herself and she has an amazing support system in her family and husband. She is super aggressive and unstoppable when she wants something."
"Lindsey is intense, she is very focused and as soon as she starts her warm-up, there's no messing around, it's time to train," Thomas said.
"She brings an intensity to the gym and a whole new level of athleticism. I mean, I'm working out next to the second Fittest Woman on Earth."
"A typical day starts with a 20 minute warm up, skill work for 10 minutes and Olympic weightlifting for 10 to 20 minutes. She then does CrossFit specific training for 30 minutes to an hour and accessory work is 10 to 20 minutes," Hyland said.
Thomas emphasized the importance of training for the games, "We basically live in the gym. Even my rest day this close to the Games is an active rest day. Which means it's spent swimming, running and biking."
The CrossFit Games season is divided into three stages. The first stage is the CrossFit Open, which will begin on Feb. 27. The Open consists of five workouts where athletes worldwide post their scores online. The top athletes from the different regions will move on to Regionals, which is a three-day competition taking place throughout May. The final stage of the season is from July 25-27 at the Reebok CrossFit Games where the Fittest on Earth will be crowned.
"I have never doubted her, even when she doubted herself. There is no limit to what that kid can do," Roesel said.
Drew Thomas
Staff Writer
Published Feb. 12, 2014