CLU limps into the playoffs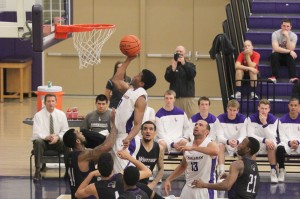 Saturday, Feb. 22 marked the last conference home game of the season for California Lutheran University men's basketball team. The night kicked off with a special recognition of senior guards Steven Davis, Collin Knudsen and Michael Palmer. Surrounded by family and loved ones, the boys stood proudly side by side as they shared a moment of appreciation for their hard work and dedication to their teammates and the program for the past four years.
Senior night was more than any old game for Davis.
"Senior night meant a lot, not only to myself, but to Collin and Mike, too. Playing here for four years hasn't been easy. It was cool that we got to be honored for it," Davis said.
Family played a significant role in the magic of the evening.
"My mom flew in from Idaho and my dad drove up from San Diego. It was nice having them here because they haven't really been able to make to any of our games this year because of my injury, so it was great to have them with me tonight," Davis said.
Unfortunately, the Kingsmen fell to the Claremont-Mudd-Scripps Stags, making this game bittersweet for the seniors. With the game starting off neck and neck at 6-6, it was looking to be a close game. However, CMS quickly gained momentum and pulled away with a sound lead. With an impressive 10-0 run against the Kingsmen, CMS strode ahead leaving the score 45-25 at the end of the first half.
After refocusing during halftime, it seemed as though the Kingsmen were ready to rally and fight back. Despite its best efforts, nothing seemed to be going in CLU's favor. Shooting a mere 32.7 percent overall in comparison to the over 61 percent that the Stags racked up it came as no surprise that CLU was not on top of its game. The final result was a loss for the Kingsmen 77-56.
CLU's seniors still managed to contribute to their team's efforts. Davis and Knudsen each put up four points adding a steal and assist to the stats. Palmer had an exceptional evening with 13 points under his belt going 2-for-3 from three-point range.
Although the outcome was not what he had hoped for, Palmer has high hopes for the remainder of the season.
"It was bittersweet. With this night comes the end of an era, but I know the team will do well next year and hopefully we will be able to finish out this year strong," Palmer said.
After suffering a severe ankle sprain in Monday morning's practice, it was uncertain whether Knudsen would be ready to play.
"I didn't think about it too much. I let the adrenaline of the game take over and I just played through the pain. With it being senior night, it wasn't really a question for me whether I was going to play or not," Knudsen said.
While the Kingsmen may be down, they certainly are not out. With a record of 9-7 in conference, CLU is heading into the SCIAC Post Season Tournament. Keep an eye out for the Kingsmen as they fight for postseason success.
Kylie McLogan
Staff Writer
Published Feb. 26, 2014