Waves too much to handle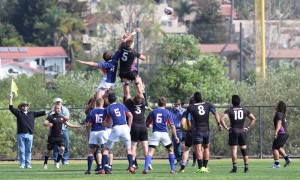 It was a top of the table clash as the California Lutheran University Knights Rugby Club took on Pepperdine University. Both teams had been undefeated during the season and this was considered to be the Knights' toughest test of the season so far.
It was a tense atmosphere as both teams were going through their warm up routine and each coach was giving last minute instructions.
With both teams having already earned a spot in the playoffs, this game signified which team was the top DIII rugby team in Southern California.
The game got off to a slow start as both teams committed many turnovers and penalties. Five minutes into the game, Pepperdine got its first try after a couple of missed tackles by the Knights. With a successful conversion by the Pepperdine kicker, they took a quick 7-0 lead.
The Knights controlled the rate of play early in the match, but simple mistakes were allowing Pepperdine to get the ball back and kick it in their territory.  Eventually, senior Sean Virzi found a gap in the Pepperdine defense near the goal line to score the Knights first try of the match to even the score at 7-7.
Not even two minutes later after gaining possession of their own kick, Pepperdine scored their second try of the match to quickly take the lead again. With another successful conversion, Pepperdine was up 14-7.
After the try, neither team seemed to find any momentum as a combination of good defense and strategic kicking would not allow either team to get close to scoring a try. With a rare mental lapse by the Pepperdine defense, Virzi ran 50 meters to score his second try of the game and once again tie the score up 14-14.
That try seemed to wake Pepperdine as they regained their composure and went on to score two tries right before half time to take a commanding 26-14 lead.
The second half got off to much of the same start as the first half with the Knights controlling the majority of possession, yet key mistakes cost them opportunities to score a try. Pepperdine displayed great defense to keep their lead and eventually regain possession.
After another try by Pepperdine to make the score 33-14, the Knights finally gained momentum and applied pressure. A nice set of passes created a gap for senior Kevin Tanner to run in and score with 10 minutes left of play to make the score 33-21.
With Pepperdine regaining possession, they were able to wind down the clock and make a last minute penalty kick for a final score of 36-21. It was a disappointing result for the Knights.
"We didn't play that great of a game. We beat ourselves up (with our mistakes)," freshman Perry Lee said.
Knights' captain Andrew Yamakawa echoed those remarks.
"We made some mental mistakes, but now we know what we need to work on and refocus for our next game," Yamakawa said.
Knights' president senior Philip Albornoz is optimistic that this loss will fuel the guys for the rest of the season heading into the playoffs.
"We just need to stay consistent," Albornoz said. "We need to finish plays, especially when we make it all the way down to the goal line. I feel like we will come back strong."
The Knights have one more regular season game against a strong Westmont College team that will be looking to upset the Knights. It is crucial that the Knights stay focused to ensure that they get back to their winning ways.
Joshua Dwyer
Staff Writer
Published Feb. 26, 2014