Students and faculty get quizzed on their black history knowledge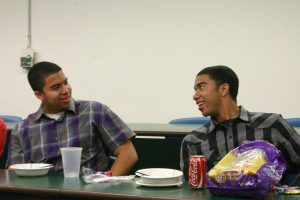 In 1976, Black History Month was officially recognized by the U.S. government because of the efforts of the Black United Students at Kent State University.  Prior to that, black history was celebrated for one week out of the month.
This year marks the 50th anniversary of the Civil Rights Act of 1964, a historic piece of legislation that outlawed discrimination on the basis of religion, color, race, sex or national origin. As a response, this year's Black History Month theme is "Civil Rights in America."
Professors and faculty at California Lutheran University are talking with students about the Civil Rights Act as well as other topics of black history.
There are many opportunities for the students at CLU to get involved with Black History Month, such as the "Jeopardy!" event, which was held on Feb. 21, and a film and dinner event which will be hosted by the Multicultural and International Programs Office on Feb. 26.
The format of the Black Student Union's "Jeopardy!" game night was similar to the television show. Faculty and staff members competed against students to see who knew more facts about black history. Some questions included, "Who performed the world's first successful heart operation?" and "Which was the first colony to abolish slavery?"
After a tiebreaker question, the staff came out of the game victorious.
Daniel Lawrence, coordinator of multicultural programs and international student services, has seen first-hand the importance of not only learning about topics such as black history in classrooms, but also of participating in conversations about these issues.
"Students should participate in learning about black history month because it's history and it will better their understanding of the global society [in which] we all reside," Lawrence said.
Although there are events held on campus, political science professor Gregory Freeland thinks that CLU students are not very involved with learning about Black History Month.
"[Students] don't know anything about it, and the faculty that knows stuff about it is the faculty that is involved in the events. No one talks about it, and there really isn't a sense of anything special or particular happening on campus," Freeland said.
Students who are interested can check out books and DVDs in the Multicultural and International Programs office as well as the library.
Many students, like sophomore Evan Carthen, help to raise awareness about Black History Month.
"We try to create awareness towards the month, but it is hard to have someone in an up beat attitude toward a different ethnicity or racial group for a whole month," Carthen said.
Lawrence, however, has no problem acknowledging the month.
"Black history is a way of life," Lawrence said. "I live it every day."
Katy Sullivan
Staff Writer
Published Feb. 26, 2014