President-elect to voice student concerns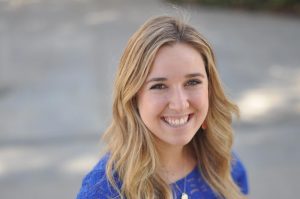 Last week, the Associated Students of California Lutheran University Government held executive cabinet elections for the positions of president, senate director and programs board director for the 2014-2015 school year.
Junior Ally Ruggles was elected president and junior Ryan Fleming was elected senate director. There was a runoff election for programs board director, in which sophomore Evan Carthen was elected.
Newly-elected Ruggles said that being president was something she has wanted since she was a freshman.
"I've just had a wonderful experience with ASCLUG; the relationships that you build and the faculty you get to work with, it's just an awesome experience and to get to take that one step further is amazing," Ruggles said. "I'm more than excited, I'm thrilled to be in this position."
Ruggles is an exercise science major who wants to eventually become a physician's assistant. She has been active in government and student life since her first year through programs board, the presidential host program and the peer advisor program. In the fall, she participated in the CLU Oxford program that allows students take courses at University of Oxford in England. Before that, she worked as a summer resident assistant in the upperclassman halls.
In addition to being in ASCLUG, Ruggles will also be a member of the Board of Regents next year, a group of community members who help guide policies at CLU. Ruggles said that her presidency is going to focus on making sure that these governing bodies know and respond to student concerns.
"I think that being involved on campus has allowed me to pick up little snippets of what concerns students," Ruggles said. "Being really approachable is a key aspect. You're there to take student concerns and aspects and do something about them."
Ruggles' presidency is going to focus on making CLU a university that is all about the students.  Ruggles said the first and most important of her responsibilities is serving as a representative of the student body.
"Ever since I was a freshman, I've wanted to increase student awareness about what really happens at CLU," Ruggles said. "I want to make sure that we have adequate representation of student interests and views."
Ricky Hegner, a junior senator, thinks that this year's government was strong because it touched on key issues that students faced this year. He believes in Ruggles' ability to effectively communicate with students.
"I think next year will be just as good or even better. Knowing Ally, she will be very transparent during government meetings and to the student body," Hegner said.
Andre Andoyan, current ASCLUG president, is also optimistic for next year's government.
One of the most notable ASCLUG actions this year was the passing of the programs board amendment, which changed the election process of programs board representatives to a selection process.
"I think this year went great. This change [with the amendment] is going to be different, but I think it's a step in the right direction," Andoyan said.
He believes the new executive cabinet will work well together and that being different is what keeps government important in students' lives.
"Everybody does everything differently in their own way. They're all new and coming from a representative background, which means they see things in a different light," Andoyan said. "I think they're gonna be a really strong team. They're all involved in multiple leadership positions, which means that they all understand the mission statement and how to best serve students."
Megan Callery
Staff Writer
Published Feb. 6, 2014