Too little too late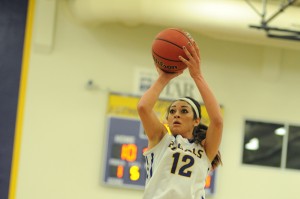 California Lutheran University women's basketball team ended its season on Feb. 27 with a loss to Chapman University in the SCIAC tournament semifinals. The Regals made a big second half push to make up for their early deficit, but it wasn't enough as they fell 72-68.
The first two baskets went to CLU, but the Regals did not stay ahead for long. Chapman tied the game at 6-6 and then took the lead, ending the first half at 37-24.
"Our defense and discipline in the first half was what put us in a little bit of a hole," said Lindsay Goldblatt, Regals head coach.
The first half also resulted in a sprained ankle for sophomore Chelsea Jacoby, who scored 14 of CLU's first 24 points. But Jacoby did not let her injury stop her from playing her hardest for the rest of the game.
"I knew that I had to brush my ankle off and do everything I could to get us to win," Jacoby said. "What was going through my mind was just getting back on the court."
The beginning of the second half did not look much better than the first for CLU with Chapman going on a 20-10 run.
As the second half progressed, CLU found its stride with successful shots by freshmen guards Jessica Salottolo, Taylor Messick and Sofia Cruz. CLU managed to prevent Chapman from scoring for six straight possessions and forced a turnover that led to a basket from junior guard Natalie Stone.
Goldblatt said the team corrected some of the things that went wrong during the first half, which helped it make a comeback.
"We came together in the second half and started playing more as a team," Goldblatt said. "When we did that and started to communicate more, we were successful."
CLU nearly closed the gap in the last minute of the game. With about 30 seconds left, Jacoby sank a 3-pointer. Then a shot by Salottolo cut Chapman's lead down to three points, at 71-68 with about 10 seconds left.
Salottolo said the team had a lot of confidence at that point in the game, even though it was not able to pull ahead of Chapman.
"We really thought we could win this game," Salottolo said. "Our shots were really starting to fall close to the end of the game. But it wasn't enough time for us to gain the lead."
The game was put away after Chapman made a free throw following a foul by CLU in hopes of getting the ball back while still down three points.
Despite the loss, Goldblatt had positive statements about her first year as head coach and the season as a whole.
"I'm very proud of the girls and the resiliency they showed throughout the year," Goldblatt said. "Our season started out rocky, but everybody worked hard and we got ourselves into the SCIAC tournament."
Jacoby also said she was proud of her team.
"We were definitely underdogs. We weren't even expected to win one game," Jacoby said. "It's been a privilege being on this team."
The Regals went 13-13 overall this season and 9-7 in conference. They lose only one player to graduation so look to the young squad to come back hungry next season.
Nerissa Cauthen
Staff Writer
Published March 5, 2014