Clock strikes zero on CLU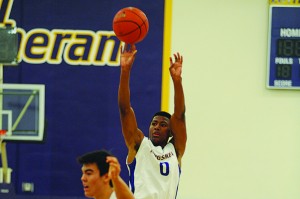 California Lutheran University Kingsmen basketball won a nail-biter against No. 1 seed Claremont-Mudd-Scripps, 54-53 after junior forward Coltrane Powdrill hit a game-winning buzzer beater on Friday, Feb. 28.
This was the SCIAC tournament semifinal and the win advanced the Kingsmen to the championship game on Saturday March 1.
"I thought we came out with a lot of energy and executed our game plan, which gave us a chance to win," said senior guard Collin Knudsen.
On Friday night, the team was ready to get going and continue on with their season. They were not ready for it to be the last time they stepped onto the basketball court for the season. With such a close battle, the Kingsmen had to keep up their energy and play smart to ensure the end result would be a game the following night.
"It was an exhilarating feeling to go over to Claremont and to get a win on their home floor. Our team was confident in our ability to beat them, so I was glad to finally prove it," junior forward Jeremy Sulker-Hall said.
After the win, the team went down to Chapman to play the championship game on Saturday.
Chapman came out hot and ready and were not prepared to give the Kingsmen the game. They won the tip off and from then on, it was the Panthers game.
Chapman was on point with their offensive aggressiveness, making their end result a solid 55.4 percent field goal percentage. The Kingsmen battled it out but continued to fall short of Chapman. They shot 38 percent overall from the field that night, which was a significant factor to their loss.
Another huge factor to the Panthers' victory was rebounding. Chapman out rebounded CLU by 18, 15 of which were offensive, and they were able to capitalize on those offensive rebounds. Nearly 18 points for Chapman came simply from these rebounds, putting the Kingsmen behind the eight ball.
However, CLU did have some players stand out with their performance as they left it all on the court. Junior guard Arik Smith had 19 points in the game yet was not satisfied with his performance.
"I was actually quite disappointed with my play on Saturday, I wish I could have made some better decisions and got my teammates more involved than I did," Smith said.
Smith may have been on to something. CLU recorded zero assists in the game and not one player pulled down more than three rebounds.
Although there were high expectations for the Kingsmen heading into the championship game, their first win did not translate over to Saturday night.
The Kingsmen left everything they had on the court and will say goodbye to five graduating seniors.
"The only thing that I have to say about the Chapman game is that they played like the better team and deserved to win," Sulker-Hall said.
They ended up losing to Chapman by 28 points in a final score of 79-51.
Chapman has not seen the end of their season yet as they move on to the NCAA Division III Tournament.
Erin Chisolm
Staff Writer
Published March 5, 2014