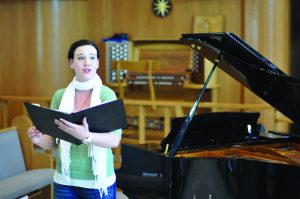 A music major's love affair with music is like many romantic relationships. It starts as a simple curiosity, followed by a pursuit and eventually develops into a life-long passion. Like any relationship, it requires commitment, hard work and the ability to drown out those who denounce it.
Music is a magical language that touches many, but only a few are fluent in. Those who are brave enough to attempt to understand its complexities become music majors. Senior Jae Park is one such individual.
Although he began his college career as a biology major, Park was involved in music for most of his life. He played piano in his church's worship band and violin throughout middle school and high school. As a sophomore, Park auditioned for the California Lutheran University choir and has been singing with the group ever since. Shortly thereafter, he began taking organ lessons. But, it didn't occur to Park to switch majors until the beginning of his junior year.
"A lot of my friends were talking about internships and grad school. That's when I really started to think, 'If this isn't what I really want to do after graduation, I might as well change now.' So, I decided to change to a music major because that's what I felt a calling toward," Park said.
Even after his decision, the biology-major-gone-rogue feared potential criticism about switching his major.
"I didn't tell my parents until after I made the switch. But I got a lot of support from my friends to do what I wanted to do," Park said.
Park will graduate May 2014 with both a music degree and the support of his parents, who he said are excited for his future pursuits in music.
Others, like senior Kiersten Humphries, fell in love with music at an early age and have not looked back. Humphries, a vocalist who is double majoring in music and biology, started singing when she was 2 years old.
"My grandma was always singing and always belonged to different choirs and my mom played the flute," Humphries said. "In third grade, I told my mom, 'There's a choir on campus, I'm doing that!'"
Humphries also took piano lessons for eight years but has primarily been involved in vocal groups. More recently, she has gravitated toward opera singing.
"Music has been the hobby, but it's always been something I wanted to learn more about. I'm going into zoology, so the running joke right now is that I should create a choir of singing animals," Humphries said.
However, Humphries said she "always wants to be part of a choir."
In addition to the music program's creative aspect, there are rigorous academic and practical components for music majors. Course requirements include classes in music theory, musicianship, music history and more.
Music majors devote time to the practical utility of the lessons they learn in the classroom.
Activities range from private lessons with music tutors and individual practice time, performance forums, rehearsals with their respective musical ensembles and concerts. On average, Humphries and Park estimate that they each dedicate approximately 15 hours per week in performance and practice. Midterms and exams often include both a written and performance component.
As a vocalist, Humphries notes self-discipline as an important factor in her success. Her senior recital, the music major's equivalent of a capstone, is an hour-long solo concert comprised of 15 songs, all performed from memory. Humphries' senior recital must include a variety of genres, including "classical, romantic, contemporary, baroque…then you have to have at least the languages of Italian, French, German and English."
Despite the demanding curriculum, a true love for music makes light of these seemingly daunting requisites. CLU's symphony conductor Daniel Geeting, who has a doctorate in musical arts, poses an explanation.
"If you make a musical instrument create a sound – it's playing. It's play," Geeting said.
Of the time and effort required of music majors, Getting believes that music is not all that different from many other disciplines that require focus and practice.
"Music is a certain kind of practice. The individual has to not mind being solitary for a period of time. But, I never really understood people that didn't want to take whatever they were working on, go work on it and come back with it substantially better," Geeting said.
Growing up, Geeting was inspired by a vinyl recording of clarinetists Benny Goodman and Artie Shaw. His mother was an accomplished pianist and held a master's degree in piano performance.
Geeting eventually pursued his doctorate in music arts and specialized in clarinet performance.
Geeting's passion for music has led him to a summer seminar in Austria where he had his first opportunity to conduct an orchestra. From this initial experience, Geeting fell in love with conducting.
"You have a certain musical vision as to what you want. If you're conducting, it's much easier to think on that level rather than thinking about the manipulation of a very user-unfriendly device," Geeting said.
Geeting's transition from accomplished clarinetist to university conductor may have stemmed from his dissolution with the music industry.
"The professional music industry is nice – sometimes you get to hang out with people of a certain notoriety. But, it's very tenuous – you can be doing great one week and then the phone may never ring again," Geeting said.
Overall, music is a phenomenon that has the power to unite us and divide us. It surrounds us – in our cars, on our phones, in stores, at sporting events, in movies and beyond. It is as inescapable as it is intangible. It takes hold over bodies and minds as we find ourselves swaying to its rhythm or being transported to a meaningful time or place in our memory.
Yet, as Geeting points out, what is perhaps one of music's greatest merits is its ability to transcend space and time.
"Music gives us a window to what went before. And what's happened before has a direct bearing on how we view things today," Geeting said.
Allison Tade
Staff Writer
Published March 5, 2014