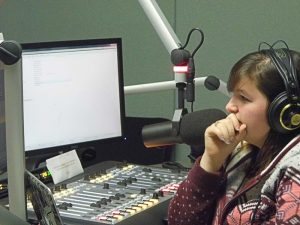 When was the last time you listened to iCLU Radio?
Not many people know about the commercial free Internet radio run by California Lutheran University students. Even fewer people know about the "Locals Only" show iCLU Radio airs Wednesdays from 6-8 p.m.
"'Locals Only' is the only show on iCLU Radio, and maybe even in Ventura County, that plays music by local bands, singers, rappers, etc., giving all up-and-coming artists a chance to display their talent," said Nancy Rodriguez, adviser of iCLU Radio.
"I really like watching the growth of a new artist, watching them grow a fan base and also watching them grow as a musician," said Disa Defrese, producer of the "Locals Only" show during the 2013 fall semester.
Any local artist, group, band, etc. can be played on the show and CLU student artists are more than welcome to feature their music on the show as well.
"We do definitely want to encourage students to come on the show. It's going to get you exposure with your peers," McConnell said.
Getting exposure and being heard are often the most difficult parts of being an up-and-coming artist.
"I love that the show supports all local artists. A lot of artists don't care about making it big, some just want to be heard," Rodriguez said.
"With local artists, you can go to a free show or a really cheap show and that's something to get you out there and listening to more stuff," McConnell said. "If you only like mainstream music, it's kind of hard to have a sort of relationship with the band."
The enthusiasm and passion artists have for their music drives the staff of "Locals Only."
"I think my favorite [part of the show] was just seeing how excited the artists were to be in the studio," Defrese said.
"I think that's really cool, getting to know these artists and knowing that they're out there and bringing them to other people so that they can build what is their passion," McConnell said.
McConnell, Rodriguez and Defrese all hope more students will tune in on Wednesday nights.
"I think the show has really good potential to be a show that gets a lot of listeners and I think a lot of students would enjoy listening," Defrese said.
"I get the feeling that 'Locals Only' will grow in popularity and we'll have to extend the hours and days," Rodriguez said.
Students are encouraged to tune in to iCLU Radio, especially "Locals Only" every Wednesday from 6-8 p.m. by downloading the free iCLU Radio iPhone app or by streaming online at icluradio.com.
Next time you find yourself going to Pandora or mainstream radio, try out iCLU's commercial free Internet radio run by your peers, the students of CLU.
Shannon Cullen
Staff Writer
Published March 5, 2014