Model United Nations goes to Harvard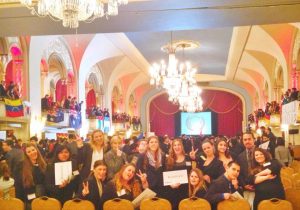 The students of California Lutheran University's Model United Nations Delegation class braved the cold weather and attended the Harvard National MUN Conference from Feb. 13-16.
Every year, HNMUN invites a select amount of universities from the U.S. and around the world to participate in the conference. This year's attending delegation was CLU's biggest to date, with 15 Kingsmen and Regals representing the country of Barbados.
"It was a complete success. It was the largest CLU delegation we have ever sent to the conference," said senior Kiera Murphy, head delegate. "Each and every one of them performed extremely well and represented our school with pride."
The students who participated in the conference prepared months in advance during the fall semester class, POLS 415.
"[Students] have to participate in the fall [semester] to be committed or be eligible to go to Harvard in the spring," said Gregory Freeland, who has a doctorate in political science and is the faculty adviser of MUN. "They learn committee work with their special committee, they learn how to write position papers and they learn how to use that special terminology. It's a lot of dedicated work."
According to Murphy, the hard work that is put into preparing for HNMUN teaches more than just terminology and procedures.
"The biggest take away or lesson I learned through my experience is that I really believe that we are a generation of change," Murphy said.
The conference took place over a course of four days, each day packed with a busy schedule, according to junior and head delegate to-be, Natasha Boychenko.
"We had 12-hour days with four hour shifts," Boychenko said. "It's competitive. I made sure that Barbados got a chance to speak at least once a day."
According to Freeland, there were 2,000 to 3,000 students present at HNMUN. Along with U.S. schools, universities from Venezuela, Pakistan, China and Kenya are just a handful of the international schools that also participate.
"I think the important thing is what students get out of it," said Freeland, "and the opportunity to be around 2 [thousand] to 3,000 students from all over the world."
CLU's MUN delegation is already looking to improve for next year's conference.
"There is a lot of work that needs to be done," said Boychenko. "We want it to thrive, we want it to grow."
Alexa Datuin
Staff Writer
Published March 5, 2014