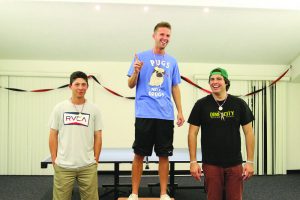 Paddles swung and ping-pong balls flew through the air as students from around campus gathered in Afton Hall on Feb. 25 for the 2014 Ping-Pong Olympics.  The event was hosted by the resident assistants of Mogen/Old West Complex and offered free food, while 37 participants competed for ping-pong gold.
"We knew from past years that ping-pong tournaments do well and get a lot of people and we figured with the Hooters' catering all the wings, everyone was going to come out," said Justin Fallon, a junior RA in Mogen. "We knew it was going to be a lengthy program, but it was a lot of fun and we were glad that we got people out. I was really happy about it."
The tournament consisted of a 32-man single-elimination bracket. Players were required to pick a country to represent and wear clothes or colors symbolic of the country they chose.  The games were first to 11 points, best of three rounds. The gold and silver matches were best of three. The first player to reach 21 points was the winner.  Since there were 37 participants, the RAs modified the bracket and had play-in games to get the player-count down to 32 players.
After two grueling hours of intense ping-pong, freshman Kyle Sanchez, representing the country of Gabon, and sophomore Chris Hartman, representing Mongolia, were the only two left standing.
In what was a fast-paced game, Hartman established the lead in both sets and never looked back, taking home the gold medal with a 21-14, 21-14 win.
"Kyle was really solid, but I just stuck true to my game and luckily, I came out on top," Hartman said.
Sanchez, who was a late replacement to the tournament, cruised his way to the final match and put up a valiant effort against Hartman.
"I just found someone who was flat out better than me.  I played my heart out and was just trying to hit all my shots, but [Chris] was fantastic," Sanchez said.
Rudy Bukich, freshman and representative of Sweden took home the bronze medal.
Win or lose, the students were happy to be there, enjoyed free wings, met new people and cheered on their peers.
"Just getting a chance to get people outside of their hall and to see people they haven't met or haven't seen as much really brings the whole community together," Fallon said.  "This program was actually just for the Mogen Complex, but we had people from the first-year side and from New West Complex, so it ended up reaching out a lot further than we thought and that's kind of what it's all about."
The RAs and the rest of the staff are already brainstorming ideas for their next events.
"You can probably expect more events that are tailored toward specific interests for residents as well as more social events that get people together," said Salma Loo, senior coordinator for Residence Life and Student Conduct.
Hartman celebrated his gold medal win by thanking those who have helped him conquer the competition.
"I've got to thank my roommate Chad Decker for coming out and supporting me and credit the years of playing ping-pong with my friends back home for this win. It's a big one," Hartman said.
Jase Magarifuji
Staff Writer
Published March 5, 2014