Regals get SCIAC preview from Trinity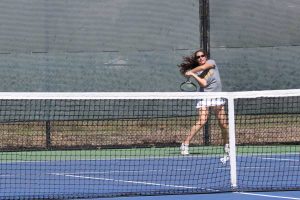 The California Lutheran University Regals tennis team faced the nationally ranked Trinity Tigers March 8 at the Poulson Tennis Center.
Junior Sarah Baker and senior Lindsay Murphy won their No. 3 doubles match while freshman Rebecca Gold won her No. 3 singles match. The Regals fought hard with many of them being affected by injuries, but at the end of the day, the visiting Tigers took home a 7-2 victory.
Doubles team Baker and Murphy earned CLU its first point with an incredible defeat of 8-0 against Trinity's Kristy Hamilton and Stephanie Williamson. Despite the great win in her doubles match, Murphy couldn't pull through in her singles match, losing both of her sets 6-0 and 6-2.
"The girl I played today in singles had a tough game for me to play against personally, so it makes everything a little bit more challenging and the girls we played in doubles I think were making a lot of mistakes today," Murphy said. "I don't think they had a good day. Singles and doubles are really different games, it has a lot to do with strategy. In singles you have a lot more court to cover and it involves more movement."
Murphy is also dealing with some injuries.
"Recently I found out I have tendonitis in my ankle and I have had a shoulder problem since sophomore year. I have a pinched nerve but now I am not exactly sure what it is. I think it could be a new shoulder injury."
The No. 1 doubles match was a close one with Gold and Freshman Daria Karakoulka almost earning CLU its second point before narrowly falling 8-6 to Caroline White and Kathleen Lundquist. Gold went on to defeat Hamilton in three sets 7-5, 1-6, 10-4 during the No. 3 singles match, leading CLU to its only point of the singles portion.
Karakoulka was neck-and-neck with Trinity's Kylie Hornbeck in the first set in the No. 2 singles, falling 7-6, but was forced to retire in her second set due to an injury.
"Today is not my best day. I am injured so I had to retire my singles match. I have alkalis tendonitis," Karakoulka said. "Trinity has a great team, but I look forward to playing tough teams like them because it just makes me play better so I love it."
The Regals will face more nationally ranked teams in SCIAC so this match was good practice.
"It is preparing us for SCIAC.In women's tennis in SCIAC we have 3 of the top 10 nationally ranked teams, CMS, Pomona- Pitzer and La Verne. All of our matches are really hard so every match prepares us for the teams we will face in April," said head coach Vanessa McPadden.
CLU's women's tennis team has an overall record of 1-4 so far this season. They will be traveling to Arizona on March 15 for a two-day tournament hosted by Arizona Christian, and their next home game is Monday, March 24 at 3 p.m. against the Pacific Lutheran Lutes.
Lauren Ray
Staff Writer
Published March 12, 2o14