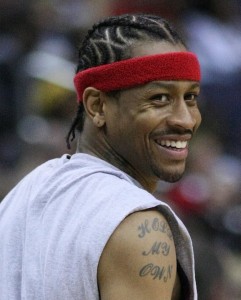 Allen Iverson's illustrious athletic career spanning nearly 15 years officially came to an end on March 1.
The 76ers released a statement back in November saying that they would officially retire his number three in a special halftime ceremony in March. More than 20,000 people were in attendance, including former 76ers and NBA greats Julius Erving, Moses Malone and former team president Pat Croce.
"I grew up watching Iverson play–it would look weird to see that number on anyone else, so I'm glad the 76ers retired it," sophomore Patrick Jimenez said.
Iverson was born in Hampton, Virginia in 1975. Growing up without a father, he was raised by his 15-year-old mother in a part of town overrun by gangs.
He attended Bethel High School where he played point guard on the basketball team, as well as starting quarterback for the football team.
In 1993, Iverson and several of his friends were involved in an altercation at a bowling alley. Convicted with a "maiming by mob" felony charge, he was sentenced to 15 years in prison. In 1995 the court overturned the conviction for insufficient evidence after he had already served four months. Fresh out of prison, he was offered a full scholarship to play basketball at Georgetown University.
After playing at Georgetown for only two seasons, Iverson declared for the NBA Draft in 1996. He was selected first by the Philadelphia 76ers where he remained for the majority of his career.
"After reading his biography, I realized all of the doubt he received due to his height," said Guy Lynott, Kingsmen basketball forward. "The fact that he took all of the criticism and used it to fuel him into the player he became is very inspiring."
His short stature and slim build didn't stop him from leading his team in scoring average as well as winning Rookie of the Year in the 1996–97 season. Along with being the 2001 MVP, he won four scoring titles for the franchise.
"Iverson has many redeemable traits that I try to instill in my players," said regional basketball coach Garrett Gilmore. "I'm happy to see the 76ers give AI this overdue honor."
During the honoring ceremony, Iverson watched as his No. 3 banner climbed high above the Wells Fargo Center walls.
"Looking at the names beside mine up there, it's crazy," Iverson said. "Who said dreams don't come true?"
Looking at the injury plagued season the 76ers have endured this year, Iverson's return brought on some much-needed positive energy for Philadelphia fans. The team had suffered a 12-game losing streak preceding Saturday's game.
Viewers were luckily able to forget the losses and reminisce over Iverson's legendary career.
"Being a Sixers fan, I was glad that I was able to momentarily forget about our horrific record recently," Jimenez said.
With his trademark cornrows, tattoos, shooting sleeves and headband, Iverson blended the hip-hop culture and the game like no one before him.
Averaging 31 points a game, the 165-pound point guard propelled the 76ers all the way to the NBA finals in 2001.
Sahal Farah
Staff Writer
Published March 12, 2014