Bulldogs left licking their wounds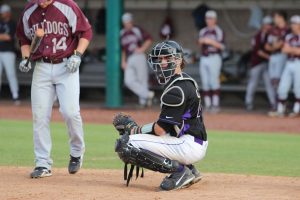 California Lutheran University Kingsmen baseball competed against Redlands University with an unfortunate end on March 7 on George "Sparky" Anderson Field at Ullman Stadium. The team lost the series opener by a final score of 7 -5.
"It's always the series we circle on the calendar because there is so much emotion and intensity," said sophomore pitcher Scott Peters.
Losing the opening game of a series, especially against a rival like Redlands, puts the team behind the eight ball. The Kingsmen offense could not get the hits they needed to get their players on base. Most of the hits were fly balls and pop ups, which made it easy for the Bulldogs to get out of the innings quickly.
Redlands' defense was ready for every ball that came its way. Unfortunately, the Kingsmen offense didn't make it work hard enough and they didn't get the big hit when they needed it the most.
In the top of the third inning, Redlands scored four runs to change its two-run deficit into a two-run lead. The Kingsmen responded with one in the bottom of the inning and the score stayed a steady 4-3 ballgame until the seventh inning. The Bulldogs scored three runs and CLU responded again, but only with two runs, which wasn't enough as both teams went scoreless the rest of the game.
Redlands' pitcher Hayden Haight went seven innings, giving up four runs. CLU had a hard time with striking out, hitting pop ups and committing errors in the field.
Senior outfielder and pitcher Jake Petersen showed up offensively for the Kingsmen, going 3-3 with two walks and two runs. However, his pitching performance wasn't as strong as his offensive one. Redlands scored seven runs off 10 hits on Petersen in his 6.1 innings.
Senior pitcher Aaron Roth finished the game tossing 2.2 innings of scoreless baseball.
"We got beat on our home field by a weaker opponent and that did not sit well with any of us. All of their hits fell and ours did not," Roth said.
Junior catcher Spencer DuBois went 2-3 on March 7 and kept a positive outlook for the doubleheader on March 8.
"After dropping the first game of the series, it was crucial to come out with a lot of intensity for the doubleheader," Dubois said.
CLU responded with authority on March 8 as it swept the doubleheader the next day against the Bulldogs. CLU took back its pride with winning the first game 7–2 and the second game 16–0.
Junior catcher Chris Whitmer led the way in the morning game going 2-4 with a triple and two RBIs. Senior pitcher Tyler Hebda earned his second victory of the season pitching 6.2 innings and allowing two runs.
The shellacking in game three started and ended with freshman infielder Kyle Sanchez who had five RBIs on three hits. Peters pitched his second consecutive complete-game shutout.
The Kingsmen continued their momentum on March 9 as they defeated Drew University (NJ) 15-7. Sophomore infielder Atherton Kniseley took advantage of his first start at third base by going 3-5 with two RBIs.
CLU will host Ithaca College (NY) March 13 at 3 p.m. and Occidental for a doubleheader on March 15.
Erin Chisolm
Staff Writer
Published March 12, 2014