Carpe 'D.M.' for CLU warriors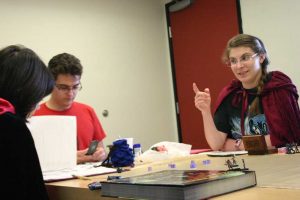 A piece of sunstone and a naked flame are all it takes to cast the wizard's evocation spell known as a Sunburst spell.
This spell creates an ultraviolet light that dispels any darkness and causes a sphere of incandescent radiance to detonate from the fingertips of the caster, according to the Dungeons and Dragons Spell Compendium book.
The impact of Dungeons and Dragons was as instantaneous as a Sunburst spell. It spread from college dorm room to college dorm room, game shop to game shop, tabletop to tabletop.
Senior Katie Frank, junior Josh Solberg, junior Mark Drach-Meinal, sophomore Kat Dubsky and other California Lutheran University students meet every Friday at 6:30 p.m. in a Grace Hall study room to "struggle for their destiny" and create the ultimate story in their current campaign.
D&D players create an alter ego and guide themselves  through a fictitious world, slowly increasing abilities such as strength, dexterity, wisdom and charisma as they battle mythical creatures and gather possessions all based on how a icosahedron, or a 20-sided die, lands.
"The icosahedron is the bread and butter die. It's the one that we use the most. If a player were to roll a natural 20, great things happen," said Drach-Meinel, who has been playing D&D for three years.
The creator of D&D, Gary Gygax, said in the article "Nerd Atlas", "[Dungeons and Dragons] is written in every man's heart- we all want to feel like warriors."
Frank has been playing D&D for 8 years. She said that being able to use her characters to vent her emotions is a perk of playing D&D.
"One of the members of our group creates his characters off of the seven deadly sins and I realized when he said that that I sometimes do the same," Frank said. "My most vibrant character was B'Elanna. She was based off rage. I'm a rageful person, but I'm not going to take it out on my friends. B'Elanna was very strong and would go and smash things. She was a way to get my anger out in a socially acceptable way."
Almost all of the game can be expressed through the roll of several dice. Health, intelligence and a weapon's strength, the probability that the weapon will successfully hit an enemy and the amount of damage it will inflict are all characteristics determined by the way the die lands.
But there is one player in particular who is in charge of creating the environment, the obstacles and the mythical creatures fighting against the characters. This player is the Dungeon Master.
The Dungeon Master, or D.M., describes what he or she sees and hears in the mythical land and what effects the characters' roll of the die has in the game. The game is primarily played in the minds of the players using a large map made out of dry-erase grid paper to represent the environment of the campaign. The players use figurines to represent their character and multiple dice to determine randomization of actions, according to Jeff Thomas.
Thomas has been participating in role-playing games for seven years and has been a frequent customer of Hypno Comics and Games in Ventura, CA for six years.
Solberg, a junior who has been playing D&D for three years, is the D.M. of the current campaign.
"The question is would you rather play the game or create the game? That's what it comes down to for the D.M.," Solberg said. "The players have character sheets which are about two pages and the D.M. has a notebook. Our job is to keep track of every move that has been made in the past campaigns and re-cap before every session."
"Pathfinder and other role playing games are not about winning and losing," Drach-Meinal said. "They're story telling machines that are here to create adventures. We get to experience new things and do things that we can't do in real life, and at some point, you can learn things. Maybe a moral situation comes up and gives you a different perspective."
In this day and age where most interactions are done through computers and cell phones, D&D requires players to be present at each session.
"Role playing is the ultimate communal story-telling experience, as five people sit around fulfilling character arcs and building an expansive world together," Thomas said.
"I'm excited for this week's session," Frank said. "My character in this campaign is Ilphiena. Her dream is to see the dragons and we are moving swiftly towards the castle where they are captured."
Ultimately, the fate of Ilphiena lies in the hands of the Dungeon Master and the roll of the dice.
Drew Thomas
Staff Writer
Published March 12, 2014