Ashes to ashes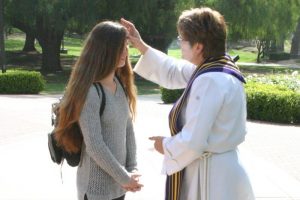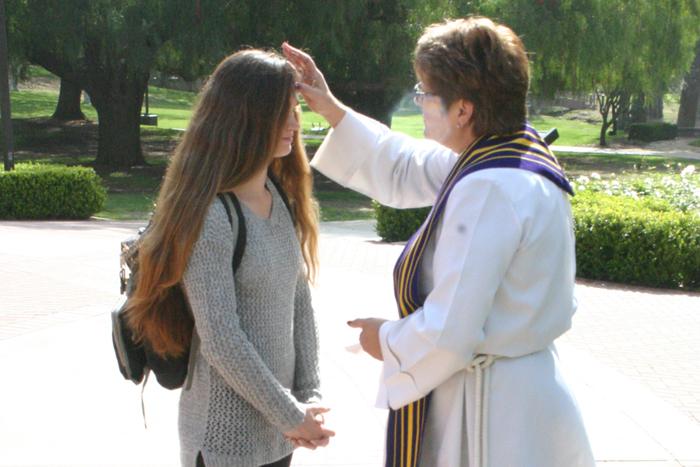 Students and faculty members gathered at different times throughout campus to receive ashes on March 5. Ash Wednesday, also called the Imposition of Ashes, marks the first day of the Lenten season. According to the Merriam-Webster dictionary, Lenten season is a period of 40 days before Easter during which many Christians do not eat certain foods or do certain pleasurable activities as a way of remembering the suffering of Jesus Christ.
This year's Ash Wednesday celebration, named Traveling Ashes, was held at 9 a.m. at the flagpole and Pearson Library, at 2 p.m. at the Centrum and Swenson Center and at 5 p.m. at the Overton Patio and Gilbert Sports and Fitness Center. Reverends Scott and Melissa Maxwell-Doherty were split at the two locations for each time slot.
Ash Wednesday has been observed on the California Lutheran University campus since it was founded, but the concept of Traveling Ashes is quite new. According to Scott Maxwell-Doherty, the idea of bringing the ashes around campus came about two years ago.
"We didn't call it Traveling Ashes two years ago," Scott Maxwell-Doherty said. "We just decided we would try and do this at the flag pole. The next year, we did a stretch of time at Gilbert and a stretch of time at the flagpole, both with great responses."
The Maxwell-Dohertys explained that more students are curious about what Ash Wednesday is. Many students agree that the increased location of the ashes is beneficial for people on campus.
"I think it is a really good way to intrigue people because a lot of people I know aren't necessarily religious nor have they grown up in a religious background," freshman Kimberly Escobar said. "Most people don't know a lot of the details. People seeing things on campus that aren't mandatory, things that they don't have to go to, which usually makes people not want to go to it intrigue them, so they start asking questions."
When University Chapel was held on Wednesdays, there was a high attendance on Ash Wednesday, according to the Maxwell-Dohertys.
Melissa Maxwell-Doherty explained that the change in time has affected the attendance of people who receive ashes, though the turnout of students is starting to increase due to Traveling Ashes.
"Now that we are doing the traveling ashes it's really fun to see," Scott Maxwell-Doherty said. "At one point in time, I had 15 people lined up waiting."
Scott Maxwell-Doherty said about 50 students received ashes during Traveling Ashes.
Ash Wednesday ended with a Catholic mass at 6 p.m. in the Samuelson Chapel. According to Melissa Maxwell-Doherty, it is the first year in which Catholic masses are held at CLU.
There will be more opportunities for students and faculty to celebrate the Lenten season. The usual Sunday night worship and University Chapel on Thursdays  will have more of a focus on Lent, according to Scott Maxwell-Doherty.
Alexa Datuin
Staff Writer
Published March 12, 2014