E-cigs light up controversy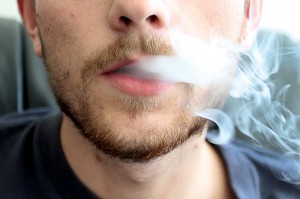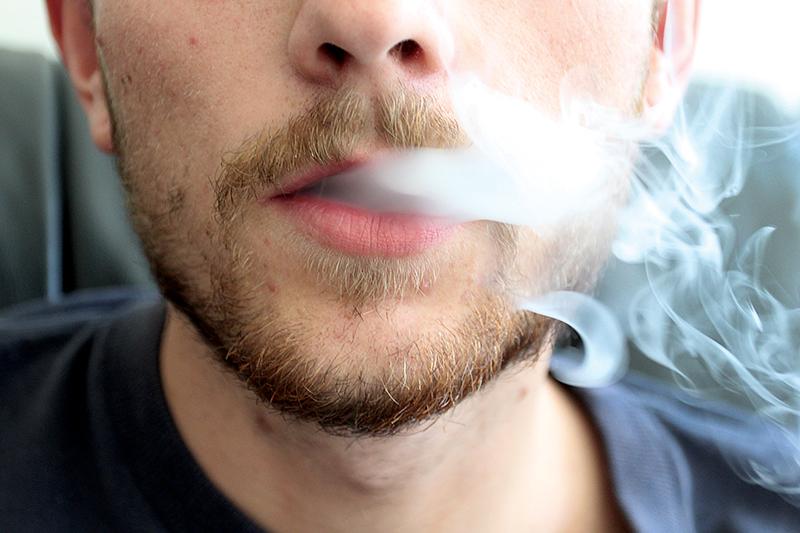 Claims by manufacturers that e-cigarettes are a "healthy" alternative to tobacco cigarettes have gone up in smoke due to a recent study published in the Journal of the American Medical Association (JAMA) in March. Findings from the study suggest that the liquid nicotine used in popular e-cigarettes poses previously unknown health threats.
E-cigarettes' smokeless properties have given the devices their clout, and are widely used as a tobacco-free replacement among smokers who are trying to quit.
David Abrams, executive director of the tobacco research organization at the Schroeder Institute, conducted a 2010 study which found that "70 percent of Americans believe e-cigarettes are less harmful than regular cigarettes," according to an article in USA Today.
Researchers in the JAMA study sampled over 17,000 middle and high school students in 2011 and roughly 22,500 young adults in 2012.
The results indicated that young people who used e-cigarettes were more likely to become habitual smokers and had higher instances of experimenting with tobacco products.
Moreover, the study shows that the flavorings in the smokeless e-cigarette liquids – chemically treated to smell and taste like bubblegum, cherry and other flavors – often attract children, who are at risk for accidental poisoning. According to the National Poison Data System, the frequency of e-liquid poisonings increased 300 percent from 2012 to 2013, with the majority of cases affecting children under the age of four.
E-cigarettes look like a regular cigarette and contain nicotine as a traditional cigarette would, but are battery-operated and smokeless. According to the Mayo Clinic website, an atomizer within the device "heats a liquid containing nicotine, turning it into a vapor that can be inhaled and creating a vapor cloud that resembles cigarette smoke."
Public health officials caution that much is still unknown about the relatively new smokeless technology and its components. Many cities are moving to ban e-cigarettes until more evidence is collected regarding long-term health risks. Among these cities is Long Beach, Calif., which joins Los Angeles, Boston, New York City and Chicago in support of new legislation outlawing or restricting the use of e-cigarettes.
"I don't think it's worth us being guinea pigs to find out," said Long Beach City Councilman Robert Garcia of the inconclusive research on e-cigarettes. "What we're hearing from a lot of people in the medical community, as well as those who are studying the issue, is that there are a lot of unknowns. It makes sense for us to err on the side of public health."
Business owners and city officials alike have been vocal about the new regulations. Moorpark Community Development Director Dave Bobardt recommended that e-cigarette store and "vape lounge" owners apply for a permit similar to those applicable to tobacco stores.
"Staff has looked at e-cigarettes and vapor bars and ultimately come to the conclusion that they're most like tobacco stores and it should be regulated in a similar way," Bobardt said in an interview with the Moorpark Acorn.
In February, the Moorpark City Council decided against Bobart's recommendation and rejected a proposal to regulate e-cigarette shops under the laws that govern tobacco stores.
Advocates of e-cigarettes, like radio show host Gary Nolan, claim that e-cigarettes are less obtrusive than traditional cigarettes. As a former two-pack-a-day smoker, Nolan said he can now enjoy smoking using e-cigarettes without bothering others with smoke or odors.
"I'm in a closed studio," Nolan says. "There are no open windows. I can vape in here, while I'm on the air in fact, and people can walk in and out and not even know it, if they don't see it in my hands."
Some, like Danielle Bourgholtzer, a 24-year-old smoker from Chatsworth, are less convinced.
"Nothing beats a real cigarette," Bourgholtzer said. "E-cigarettes still smell, just because they're smokeless doesn't mean they don't have an odor. E-cigarettes might be less harmful than real cigarettes, but they're still bad for you."
Others, like Conejo Valley resident Robert Weiss, said they're still unsure about e-cigarettes.
"I'm sure there are all kinds of chemicals in those things. I often see people using them in public and wonder how safe they could really be in comparison with traditional cigarettes. If they're so 'safe,' why are they being banned nationwide? Smoking is smoking – why not just quit?" Weiss said.
Early studies suggest traces of neurotoxins and cancer-causing agents, called carcinogens, in the e-liquids. Although e-cigarettes and their components are not yet federally regulated, the liquid nicotine ingested by users poses possible health risks that are still under investigation.
Allison Tade
Staff Writer
Published April 2, 2014