Bounce back over the Bulldogs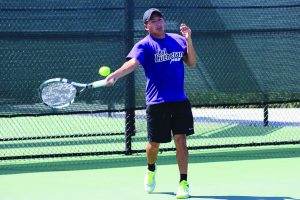 On April 5, the California Lutheran University Kingsmen tennis team took home a victorious 8-1 SCIAC match against the University of Redlands Bulldogs.
The Kingsmen started the Saturday morning strong with a sweep in doubles against the Bulldogs. Senior Alex Nichols and junior Connor Treacy garnered an 8-4 win in the No. 1 match. Freshman Fergus Scott and junior Moises Cardenas won the No. 2 match with a solid 8-2 win. The No. 3 match proved to be tough as junior Jesse Knight and sophomore Ian Slater were down 5-1, but managed a comeback with a 9-8 win.
After coming from a tough loss against Claremont-Mudd-Scrips, the Kingsmen fought hard for Saturday's wins against Redlands.
After a win in doubles, Scott took home a victory winning his singles match dominating both sets 6-3 and 6-2.
"He had a really big serve, so I was trying to make lots of returns and play," Scott said. "It was tough coming from a loss from CMS yesterday. It was a bit of a step up. It was good to come up here and just try and play well and we got the win, which is good."
Slater played a consistent match against his singles opponent and also won both sets, 6-3 and 6-2.
"My strategy was just to not miss," Slater said. "Always be tougher than my opponent on every point and don't let him have any free points. I was up early and stayed very competitive and really aggressive."
Sophomore Sean Handley obtained his first win after three straight losses. He upset his opponent by taking both sets 6-3 and 6-3. The win gave CLU its fifth point of the day.
Adding to CLU's point total, Nichols took home a singles victory with a 6-3 and 6-4 win.
Cardenas' match against one of the top tennis players in the West Region, Bulldogs' Patrick Lipscomb, made for an exciting one.
Cardenas took the first set 7-5, but lost the second 6-3. Cardenas played hard to take the third set in a 6-3 win, allowing CLU to gain its eighth point of the afternoon.
Despite a great win in a doubles match, Treacy was unable to gain a win in his singles match, losing both sets 6-2 and 6-2.
Throughout the day, the team spirit was present. As the Kingsmen finished their matches, teammates supported and cheered on Cardenas as he played his vigorous match. It was apparent that the Kingsmen supported each other as they continued to send Cardenas positive vibes and optimistic messages when the match seemed almost impossible to win.
"We have a really bright future," Slater said. "Last year, we were one of the top teams in the nation. For us right now, we are a building season. We have some young guys and we are really progressing. Next year, we're going to be a really big team."
Saturday's 8-1 win was a big victory for the Kingsmen and a step in the right direction moving forward.
"This is a turning point," Scott said. "Redlands are our rivals and we lost to them 5-4. The next few matches, we have three this weekend, if we can just keep this momentum up, we'll be in a really good position heading in to the lighter stages of the season."
CLU's overall record is 4-8. The Kingsmen have a conference match on April 11 at Chapman University and travel for another conference match on April 12 at Pomona-Pitzer. On April 13, they will play a nonconference match against UC Santa Cruz in Westmont, Calif.
Alexa Datuin
Staff Writer
Published April 9, 2014