CLU professor is buzzing about bees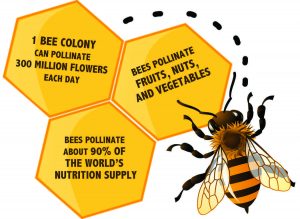 Many may not know this, but California Lutheran University houses more than just students. It also gives a loving home to a colony of bees, located right behind the CLU SEEd project garden.
Professor Bryan Rasmussen, who has a doctorate in English, brought in the bees a little over a year ago after receiving a grant from the Community Leaders Association.
"I've always been interested in worms and bees, mostly because I just love thinking about the processes that produce things we take for granted, like pollination and good soil," Rasmussen said. "I wanted to make it possible to see these things in action by creating habitats for them at our garden."
Rasmussen likes to call this project of installing bees and worms in the garden the "small creatures sanctuary" project.
Sophomore Christina Geldert helps Rasmussen tend to the bees weekly. She started volunteering in the garden last year and was later offered a position. Last spring, Geldert had Rasmussen as a professor and he asked her if she wanted to help him work with the bees.
"I didn't know anything about bees, but it sounded like a neat thing, so we each got a bee suit. We had a mentor show us a little bit about what to do and then we read a lot about it and just figured it out," Geldert said. "We usually do a weekly inspection, especially now that it is spring and things are starting to bloom more so the hive is getting a lot bigger and they're making a ton of honey."
The CLU bees will be receiving some publicity this month with two free bee-related events. The first is a bee-keeping demonstration from 1 to 2:30 p.m. on April 12 in the CLU SEEd Project Garden.
The second event is a screening of the 2012 documentary "More Than Honey" about the worldwide threat to bees. The screening will take place at 7 p.m. on April 22 in the Lundring Events Center.
"There are pesticides, there are GMO's and other things that directly affect the bees immune system," Geldert said. "We are the generation that needs to realize this and fight it because it's just getting worse and worse."
In "More Than Honey," Oscar-nominated Swiss filmmaker Markus Imhoof tackles the urgent question of why bees are facing extinction worldwide. He investigates the global phenomenon in California, Switzerland, China and Australia.
The screening will be followed by a panel discussion led by Ruben Alarcón, assistant professor of biology and pollination ecologist at California State University, Channel Islands, and Ruth Askren, a volunteer educator with HoneyLove.org bee sanctuary who also runs Bee Capture, a live bee rescue and relocation service in Los Angeles.
Askren said that the main focus of the panel discussion will be what is happening to the honey bees in the world today and about Colony Collapse Disorder.
The Los Angeles area is particularly well suited for bees so anyone interested in garden growing, vegetable growing, botany or honey bees I would encourage to come," Askren said.
Rasmussen and Geldert both spoke about how serious the threat to bees is. They also highly encourage students to attend these events to learn more.
"I don't think students, or anyone, realize how dependent we are on these kinds of creatures in our everyday lives. Bees pollinate as much as two-thirds of our food supply and without them, current agricultural practices would fail catastrophically. Currently, there are half as many honey bees as there were 50 years ago, and populations continue to plummet, with the most acute losses occurring in the last decade," Rasmussen said. "I encourage anyone who cares about the future of our environment and about the economic well-being of the nation to come talk with us about what they can do to help."
Lauren Ray
Staff Writer
Published April 9, 2014