Life Now raps their way into Chiddy Bang's opening slot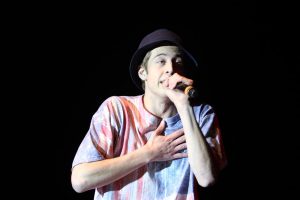 Every journey has some kind of unique beginning. For the hip-hop group Life Now, opening for Chiddy Bang has kick started that journey. Life Now consists of five rappers, four of whom attend California Lutheran University.
Senior Elnathan Huitron, junior Shane Thompson, junior Abhi S.V., freshman Alec Mallas and Cameron Jordan  joined together to form Life Now in 2013. After working on music individually and gaining experience, the Southern Californian rappers united to produce music as a group.
Life Now aligns themselves with artists such as Lupe Fiasco, Asher Roth, Outkast, Mos Def and Chance Tha Rapper, making music and beats similar to their inspirations.
Thompson explained how the rap group came up with the name Life Now as he looked around his combined recording studio and bedroom.
"Life Now is a philosophy we have and that philosophy is basically about just living in the present," Thompson said.
Living in the present is nothing similar to Drake's popular you only live once motto. Instead, it represents living in the present and making the most out of what you have.
Life Now has produced multiple music videos with thousands of views on Youtube. All of their music is free for download and they plan on getting better from there.
"Our music is all free, so it's really not that hard to get it and share it," Abhi S.V. said. "The best thing for our group is just having people share our music. We're really doing it and there is nowhere to go but up."
After opening up for Chiddy Bang, Life Now plans on working harder and releasing more music. Thompson expressed how this was the biggest performance he's ever done and all he wants is to do more shows.
"Getting more shows is really what Life Now is aiming for," Thompson said. "We have no set goals yet. All we want to do is keep working and getting our names out there in the world."
Sophomore Chris Hartman considers himself a fan of Life Now and enjoyed their performance prior to the Chiddy Bang concert.
"I've seen Life Now perform before and opening up for Chiddy Bang was definitely their best show yet," Hartman said. "They brought a lot of energy to the crowd and their music was really good."
Life Now records and edits all of their music in Thompson's bedroom with limited space. But that does not stop them from continuing to express their passion and love for what they do.
"We want to be the group that represents CLU. I really want that," Thompson said. "We just ask that our fans spread the love and share our music to help us get to the top and be able to continue doing performances."
Fans can stay updated with Life Now through their Facebook page at facebook.com/lifeisbetterinthenow.
Life Now's music is available for free download from soundcloud.com/life-now.
Ryan Perez
Staff Writer
Published April 9, 2014