Rumbling in the ground and in the stomach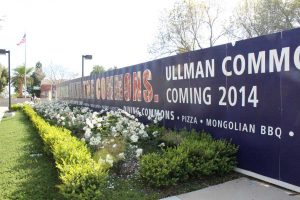 After three years of planning, blueprinting and construction, the new Ullman Dining Commons is approaching its opening date.
Construction is slated to be finished by the end of May and the building is scheduled to be done with all the necessary inspections by mid-July. It is also scheduled to be ready for full operation when student athletes come back to campus before the Fall 2014 semester.
According to Project Manager Valerie Crooks, the new commons will serve as an upgrade to California Lutheran University's current cafeteria.
"It's really like comparing night and day…obviously our old cafeteria has had some work done on it over the years, but it hasn't changed very much in about 50 years," Crooks said.
The new commons boasts new seating, different food platforms such as a Mongolian wok station, a deli-style sandwich station, a vegan counter with all-vegan entrees, a pasta bar, a specialty bar with new specialty items every week, a pizza oven and a fully licensed Starbucks Coffee shop.
"I believe the new commons will give the students more in terms of variety and options, whether it is the Mongolian wok, the bakery or the Starbucks. I think that the students will really benefit from all the options and accommodations the new commons offers," said Aaron Peerapruk, a retail manager with Sodexo.
"The whole upscale, retail restaurant dining experience is going to be there at the new Ullman Commons," Crooks said.
The new Ullman Commons will also have a market called Ullman To-Go. It will offer pre-prepared sandwiches and salads along with a hot food case, featuring prepared hot entrees to go.
Sodexo has been working with the project managing staff so that the meals, market and Starbucks will be covered by meal plans.
The new commons will also offer new jobs for students with opportunities in the Ullman To-Go market, the dining hall and Starbucks Coffee. Students may find these on-campus job hours more flexible than others with the Starbucks open from 7 a.m. to midnight on most days.
While the building is close to being finished, it has not always been smooth sailing throughout the three years of the project.
"Even though we haven't had a lot of rain this winter, every time it has rained, it has rained at the worst possible time, right when we were trying to load glass and doors in the building, and that kind of just landlocked us," Crooks said.
Other setbacks have included budget issues, which were aided by a $2 million grant by the Ullman Foundation.
"[Despite the setbacks] we're tracking pretty well, we took a chance, we started working on the interior before the exterior was fully finished and it's paid off for us because the bulk of the time it hasn't been raining," Crooks said.
With construction nearing an end, tours have been given out to staff members and students to preview the new building.
Sophomore presidential host Ana Wright took a tour of the commons with the admissions office.
"It certainly was bigger than the current cafeteria. The coolest part is that it's all very open and easily accessible. The different food stations and variety of seating options from booths to high top tables is really going to give Ullman Commons a modern twist," Wright wrote in an email interview.
With the reality of the new commons imminent, students and staff are excited and also have high expectations.
"With the addition of Ullman Commons, our dining experience here at Cal Lutheran will be enhanced immensely…students are really going to enjoy Ullman Commons and all it has to offer," Wright said.
"It's almost funny, it almost seems like a dream now, it's actually starting to come together, I can see the end in sight… for the university, I think it's just going to be really transformative and that's what everybody and the administration was looking for. Their goal was to have a building that would be the 'living room,' the central gathering place on campus. I think from everybody that I do talk to, it's really going to happen," Crooks said.
A preview of the new Ullman Commons will be available for all students on April 22 from 11 a.m. – 1:30 p.m. It will include samples of the food that the new commons will serve as well as 10 minute tours through the building.
Ramsey Abushahla
Staff Writer
Published April 9, 2014