Not horsin' around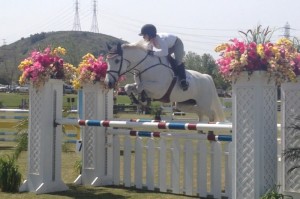 Ralph Waldo Emerson once said, "riding a horse is not a gentle hobby, to be picked up and laid down like a game of solitaire, it is a grand passion."
And that passion of riders at California Lutheran University  is what's leading the way in the hopes to organize an equestrian club team at CLU. Riding a horse not only takes passion, but also complete trust in your horse to jump a four-foot-three-inch-fence.
But what if you could not compete with the horse you have been training with for years?
That's how the Intercollegiate Horse Show Association works. In order to create an equal showing experience the IHSA competitions are based on catch riding in which riders randomly select a horse then have to show in their division.
"At IHSA competitions, riders draw a horse out of hat. The riders are not allowed to practice or warm up on the horse at all. I believe these forms of horse shows are great and fair competition. It is a true test of a rider. The rider must be adaptable as well as technically correct," said sophomore Colleen Whiting, who has been riding for 18 years.
According to the IHSA website, there are eight different levels within the English division. They include beginner, intermediate, open over fences for beginner and intermediate, advanced and open on the flat and over fences for intermediate and advanced.
"IHSA provides collegiate riders of all skills the opportunity to compete individually and also as a team in equestrian competition. IHSA was founded on the principle that any college student should be able to participate in horse shows regardless of their riding ability or financial status," said Julie Mann, the website committee member for the IHSA in an email interview.
According to an article written by Bill Pennington in the New York Times, college club sports have swiftly raised in popularity. Club teams allow for talented athletes who did not earn a scholarship out of high school to continue playing a sport for the love and enjoyment that comes from playing on a team.
"An equestrian club team would benefit CLU in many ways. First, it is another team that has the ability of attracting more students, second, much like a club it gets students involved in the community," Whiting said. "Third CLU, is in a great area for a team because there are so many high level show barns and excellent trainers near by."
"CLU is so appealing to me because it's so close to home and I would still be able to train at my barn. But I want to go to a university that has a riding team to gain more experience," said Anna Ishiyama, a junior at Camarillo High School who has been riding for 10 years.
An equestrian club team at CLU would bring an entire new level of success to the campus, allowing for students to take up a new sport and for skilled riders to gain more exposure and experience.
"All you need to start an equestrian team for the IHSA is a group of ambitious students willing to start a club team. The advantage of being a club sport rather than an official varsity team is that club members will gain a great deal of leadership experience and organizational experience," Mann said. "An IHSA equestrian team can be as small as one rider or as many riders as the team can financially take on. CLU would be in zone eight for competition in the IHSA."
Whiting is currently trying to recruit riders of any ability in Hunter/ Jumper, Dressage or Western to start a club team at CLU.
Drew Thomas
Staff Writer
Published April 16, 2014