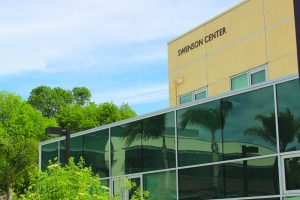 Look around campus and you might notice some of the features that California Lutheran University has added to make itself more sustainable.
CLU has made efforts to reduce its waste by planting drought-resistant plants and installing smart air-conditioning in certain building and the effects of these changes can be seen and felt.
CLU will showcase some of its eco-friendly features as it kicks off its second annual Green Week on April 22.
"Green Week is a chance for CLU to talk more about sustainability.  CLU itself does a lot of things to try and promote sustainability, but we also need to rely on students to implement those changes into their life," said Rebecca Reinhardt, an environment and sustainability intern for the Community Service Center.
Green Week will be broken down into four days, starting on April 22, which is Earth Day.  Students will learn about alternative forms of transportation, alternative energy sources and carbon footprints. According to nature.org, carbon footprints are the greenhouse gas, or carbon, emissions that cause climate changes.
Essentially, carbon footprints  are the reason for the issues we hear about like, ice caps melting, higher yearly temperatures and freak weather across the globe.
April 23 will be all about "zero waste."  Students will learn how to reduce their material consumption and how to lower their carbon footprint.
"We've noticed through the years that people tend to accumulate stuff.  The stuff has to go somewhere eventually, and unfortunately, it goes to landfills.  [Wednesday] is encouraging people to be creative about the stuff that they buy and being a more informed consumer.  We're not asking them to not buy, we're just asking them to buy smarter," Karen Schomaker, coordinator for the community service center said.
April 24 will focus on sustainable life and will be headlined by a blood drive, farmers market and sustainable fair where companies will be on campus to showcase their sustainable and alternative energy products.
Green Week will conclude on April 25 with a day of reflection on everything learned throughout the week.  It will also be a chance for participants to figure out how they can commit to a sustainable lifestyle.
"We are living on a planet that does not have an infinite amount of resources, so it's really important for us to try and preserve those resources as best we can and to use them as wisely as we can," Reinhardt said.
According to Ryan Van Ommeren, associate vice president of facilities, CLU has already pledged its allegiance to going green, most notably displayed in the new Leadership in Energy and Environmental Design, or LEED, silver level certified Ullman Dinning Commons.
LEED is sanctioned by the Department of Energy and awards ranking for criteria met concerning a variety of green initiatives taken.
"Ullman Commons has all kinds of green features built in: daylight lighting virtually everywhere, automatic blinds that raise and lower depending on the amount of light that's outside, systems where windows open up and withdraw fresh cold air at night into the building instead of turning on the air conditioner and that's just scratching the surface," Van Ommeren said.
Since the construction of the Swenson Center, CLU has adopted the standard of having all of its buildings become LEED certified, ensuring that the campus is constructing eco-friendly structures while keeping energy usage at a minimum.
"For the last four years, even though we've added Rolland Stadium and Swenson Center to our campus, our energy uses have not gone up at all.  We're bringing on buildings that are very highly efficient," Van Ommeren said.
The next time you're walking around campus, take a moment to check out the eco-friendly features around CLU and think of ways to commit to a greener lifestyle.
Jase Magarifuji
Staff Writer
Published April 16, 2014