She's the man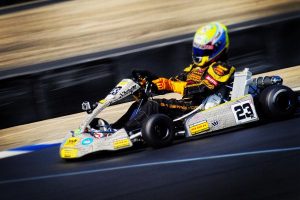 Michel Manning is a 22-year-old Accounting and Spanish double major at California Lutheran University. In the past, she has participated in many school activities, including the cheerleading team. Unlike other girls her age, however, Manning is a professional go-kart driver.
Although she wasn't always allowed to race, her father, Michael Manning, has been in the go-kart industry and owned a professional go-karting team since Michel Manning could remember.
"My dad has owned a go-kart racing team all of my life, so I was kind of born into it in a way. But, he didn't start letting me race until I was 15, and you're usually supposed to start when you're like 5," Michel Manning said.
Michel Manning said that getting her father to let her start racing was a huge battle.
"I basically had to beg him for awhile, and he finally let me," Michel Manning said.
Now that Michel Manning has been racing professionally, her father loves spending time with her through their common love for the sport and is very supportive of Michel Manning's talent.
"To have a sport that we both get to compete in is awesome," said Michael Manning in an email interview. "Our true bond is derived from the 'karting' experiences. She is my tomboy. She can turn wrenches and drive it. Tony Stewart should of hired Michel instead of Danica Patrick."
Michel Manning explains that most people are usually not familiar with what kart racing actually is, mistaking it for the recreational activity of indoor go-karting.
"When I tell people I race go-karts, they always assume it's indoor go-karting, but it's so much different. It's actually on a professional level where you would start if you want to go into NASCAR," Michel Manning said.
Michel Manning definitely holds her own in the male dominated sport, being one of two girls in her class. She said that it is sometimes difficult to hold her own as she is constantly getting picked on because she's a girl.
"[I get picked on] all the time. It's hard. The competition is really intense and it's probably my favorite part of it. They [men] just kind of pick on you and they think you're not tough, so they'll try to take you out without really caring," Michel Manning said.
While competing with the boys, Michel Manning still likes to be girly on the track.
"I just try to be as tough as I can, but I still flaunt that I'm a girl. I usually always have my nails done, I wear a bow in my hair," she said.
Although she's focusing on school and pursuing an education, Michel Manning has set goals for herself in the karting industry. She wants to work her way up and is hopeful that she will get the opportunity to compete in a world championship in kart racing as well as race for  NASCAR or Forumla 1 Driving.
As for Michel Manning's father, his wishes for her future are quite simple. He wants her to keep a promise that she made to him.
"[I want her to] stay true to her promise to me and get her accounting degree. I want all three of my daughters to earn their degree and Michel will arrive at the podium next month to receive hers," Michael Manning said.
Graduating in May, Michel Manning will keep right on track with the promise she made to her father.
But before graduation, Michel Manning has a chance to take over the points lead on April 27 as she seeks her first win of the season. She is currently third in the points championship.
Natalie Kalamdaryan
Staff Writer
Published April 23, 2014