Regals drop the ball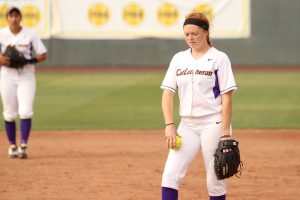 It was a disappointing weekend for the Regals softball team. They were eliminated from SCIAC postseason play after dropping two games to both Claremont-Mudd-Scripps and Whittier.
On April 18, the Regals hosted CMS for a double header. Game one was all CMS from the start, as it scored seven runs in the first four innings. CLU was able to respond in the bottom half of the fourth with an RBI triple from senior designated hitter Danika Green.
However, that was the only run the Regals were able to score as they fell 9-1.
Game two started with CMS scoring three runs off of a home run from sophomore right fielder Janelle Shiozaki in the top half of the first inning, but CLU was able to answer back with two runs in the bottom half. Sophomore first baseman Blake Lewis hit an RBI double, and she came in to score later in the inning on an RBI single from senior second baseman Kelly Lockwood.
"It's really helpful when we score runs, especially when I gave up a three run home run in the first inning, and we come back and get two runs. I know my team is behind me no matter what," said freshman pitcher Courtney Sooy, who threw a complete game in game two.
CMS scored a run in the third inning on a passed ball, but the Regals were able to answer back yet again, with Lewis hitting a game tying two run home run.
"I was just looking to score a run any way I could. It was two outs, full count, and I was just looking to hit something hard," Lewis said.
The power was contagious for the Regals, as junior outfielder Andrea Brackpool hit another game tying home run in the bottom of the sixth inning.
However, CLU allowed three unearned runs in the seventh that would ultimately be the difference in the game, with the final score 10-7. In total, the Regals allowed seven unearned runs in game two.
"In the second game, we hit well enough to win, we pitched well enough to win, we just did not play strong enough defense," said CLU head coach Debby Day. "It's unfortunate because we've been playing great defense, and it just happened that today it didn't go our way."
Despite the two losses on Friday, the Regals were still in position to make SCIAC postseason play as they were in fourth place entering Saturday's matchup against Whittier.
"We need to win, we need to come out tomorrow strong and aggressive. We want to make playoffs, and we need to win to make playoffs," said Sooy before the game.
Unfortunately, CLU could not clinch a playoff spot on Saturday, dropping both games of the double header at Whittier.
In game one, the Regals were shut out by Whittier's senior pitcher Courtney DeLano. Junior pitcher Shonna Christianson pitched well for CLU, allowing just three runs over six innings while scattering seven hits, but she was ultimately out-dueled by DeLano. Christianson had two hits in the game as well.
In game two, CLU was able to take the lead in the first inning. Senior shortstop Stephanie Martello hit an RBI single that brought in senior left fielder Katelyn Downing. The Regals added on to their lead in the second inning after Downing reached on an error that brought home Sooy.
However, this was the only offense CLU was able to produce, and Whittier scored 12 unanswered runs to seal the victory.
The loss took CLU out of playoff contention. The Regals (19-17, 13-13 SCIAC) will conclude their 2014 season and host Chapman on April 26 for its senior day, honoring seniors Downing, Lockwood, Martello, Green and outfielder Kayla Sakamoto.
Ramsey Abushahla
Staff Writer
Published April 23, 2014