Back on top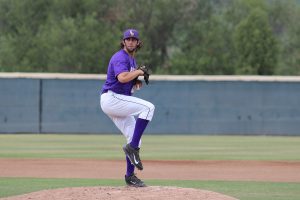 'Good Friday' proved to be a good day for the California Lutheran University baseball team when they won 11-2 against La Verne. This was the final regular season series before round robin play begins next week.
During the first inning, senior pitcher/outfielder Jake Petersen hit a two-run home run to right center, bringing in freshman outfielder Sinjin Todd. Immediately following, sophomore outfielder Ramsey Abushahla hit a home run to left field giving the Kingsmen a three run lead.
"We had a great pitching performance today. The first inning was huge to get the game started with three runs. We just kept getting into scoring positions all day," head coach Marty Slimak said.
"It was a pretty good day overall. Being able to score right away in the first inning was huge," Petersen said. "Pitching wise, Spencer [DuBois] did a great job behind the plate. Everyone was doing their job and making plays when they needed to."
Following La Verne's only two runs of the day, the Kingsmen came back with a vengeance in the bottom of the seventh.
The bases were loaded with two outs when junior first baseman Collin Crowl doubled down the right field line, safely bringing in senior infielder Nicho DellaValle, Abushahla and Todd.
"The bottom of the seventh inning was huge for us to get guys into scoring position after La Verne scored. We kept our attitude up and our coaches were really firing us up," Petersen said. "We had good leadership in the dugout and just kept making plays when we needed to."
Todd, in his third career game, had a solid performance with four hits and four runs in the first, fourth, seventh and eighth innings and two RBIs. Other runs were scored by sophomore third baseman Davey Casciola in the fifth inning and senior second baseman Craig Jacobson in the eighth inning.
"A win like today's is a team effort. Right now, we've had three really great games in a row. Baseball in general is a momentum sport, as long as we can keep the tempo up, we can hopefully keep our streak going from here," Petersen said.  "Now would be a great time to keep the momentum going into the SCIAC championships."
The following day, on April 19, the Kingsmen traveled to La Verne to finish up the series with a doubleheader. CLU won both games 7-4 and 10-3 to complete the sweep. Junior catcher DuBois led the way in game one as he went 3-3 with an RBI and a run while sophomore pitcher Landry Kiyabu picked up his third win of the season.
Junior pitcher Scott Peters (5-3) got the victory in game two, throwing eight innings, striking out five and only allowing one run. Petersen and Abushahla combined for five hits and four RBIs.
Because of CLU's sweep of La Verne and Chapman's sweep over Whittier College this weekend, the Kingsmen (27-8, 18-6) are in first place heading in to round robin play.
"We've been performing well as a team and we are just going to keep everything the same for the conference championships in two weeks," Slimak said.
Round robin play will begin on April 23 as CLU travels to Claremont for a game at 3 p.m. The Kingsmen will then play at Redlands on April 26 and return home on April 27 to host La Verne at 11 a.m. The top four teams in the SCIAC standings at the end of the round robin play will advance to the SCIAC Post Season Tournament. The winning team will represent the SCIAC in the NCAA Division III playoffs.
"We are really just trying to take it one game at a time," Todd said. "We control our own destiny and [need to make] the most of our opportunities."
Drew Thomas
Staff Writer
Published April 23, 2014