Meshing technology and art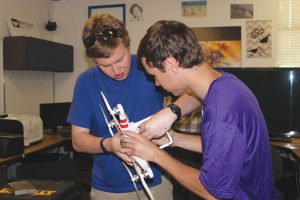 Glasses that display digital images to voice commands, holographic computer monitors and flying drones were all the stuff of science fiction at one point.  But, as a new age of technology has arrived, so have the prototypes and first drafts of these devices.
A few of these technological advances will be on display at California Lutheran University's annual CLUFest, held by senior multimedia majors.
"It's an opportunity for the students to show us their work and share with us their vision in dynamic media," said Barry Burns, CLU professor and director of the CLUFest planning committee.  "We can validate the students' efforts in creating meaningful art that we all can profit from."
CLUFest will kick off on April 25 with the "Journey Through Color" art display in the Kwan Fong Gallery of Art and Culture and will run until May 17.  The gallery will display a wide range of art from photography to digital animations that the multimedia students have diligently worked on throughout their time at CLU.
"A lot of people don't actually know what multimedia majors do because it's such a broad range of things. So we're showcasing what we've learned, whether it be Photoshop or digital cinema, etc.  It's our art work that we've worked on over the past four years," said senior Ottilie Yee, marketing director for CLUFest.
On May 4, an opening reception will take place from 6 to 8 p.m. where the multimedia students will demonstrate the uses of Google Glass, glasses that perform everything a computer can using voice commands. This technological preview marks the possibility of using  Google Glass in classrooms.
"We're showcasing the technologies that are coming out in the future.  One of the Schools of Management professors was on the list for getting the Google Glass, so we are messing around with integrating them in some of our courses," said senior Eric Renn, CLUFest audio-visual technician. "We're thinking that in the future, we may be using the Google Glass as wearable technology."
According to Renn, CLUFest will also feature a television that is linked to an iPad with a selection of videos on it.  Participants will select the videos they want to watch and then display it on the TV screen, a unique experience unlike most exhibits that have pre-programmed videos that participants have to sit through.
There will also be a demonstration of the uses of a drone with a camera attached.
While the CLUFest is a display of technology and digital art that is fascinating to the eye, it is also a reminder of the importance of the multimedia department and its recognition of technological advances.
"Technology is changing so rapidly and so dynamically that we need to keep up with everything, and the Multimedia Department is great at identifying new media," Burns said.  "The school benefits because we become more experienced in recognizing dynamic art all around us, especially interactive art."
Jase Magarifuji
Staff Writer
Published April 23, 2014