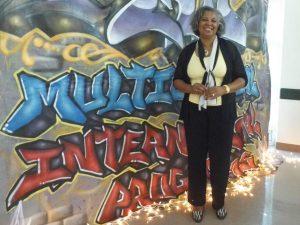 The tables were set and the trophies shined at the California Lutheran University Multicultural and International Recognition Banquet on April 23. Representatives from culture and justice clubs, such as the Chinese Culture Club, the Black Student Union, Hip Hop Organization and many more were in attendance for the dinner and presentation of awards.
"This is our Multicultural and International Student Services Appreciation Banquet that we have every year.  It's to acknowledge their club's year of service and everything they contribute to the campus," said Juanita Hall, senior director of Multicultural and International Student Services and assistant to the president for diversity and inclusion.
The MYLife club was the first to take home an award as they were presented with the "Most Services" trophy.
"MyLife is a multicultural, community building club.  We try to bring together people from different backgrounds with different identities and build a community from it.  We're kind of like a big family on campus," said Lisa Rowan, co-founder and co-president of MYLife.  "It's really great to be presented for our efforts, it means a lot to our club."
The Hawaii Club was up next as they received the "Left People Wanting To Learn More" trophy, followed by the Bisexuals, Gays, Lesbians and Allies for Diversity club who took home the "Left People Wanting to Think More" trophy. Afterwards, BSU was awarded the "Improved Appreciation of Diversity" trophy.
"BSU is built on bringing awareness toward African American culture as well as students on campus that come from not just an African American background but multiple backgrounds.  The primary purpose is to get awareness out there through events and service projects, it's a lot of fun," said Wayne Swinson, a member of the BSU.
Swinson was also one of many international peer mentors honored for their service.  According to Swinson, the international peer mentors assist international students in college decisions and adjustments to life on campus, just as the peer advisors do for other incoming students.
The Chinese Culture Club was next to the podium as they received the "Increased Students' Knowledge of Culture" trophy, followed by the Feminism Is… club who was awarded the "Increased Global Social Awareness" trophy and, finally, the United Students of the World club who were presented with the "Brought the Most Students from Diverse Backgrounds" trophy.
"All these clubs have a mission.  It's either a cultural mission to share their culture or grow in their own cultural identity or it's a justice mission to change the world and make it a better place for people from every race, gender and ethnicity," Hall said.
While these clubs are a cultural experience unique to all other clubs and require stepping out of one's comfort zone, current members highly recommend and encourage those interested to join a cultural or justice club.
"I think cultural and justice clubs are some of the biggest outlets that people can use in order to not only understand a new culture, but understand fellow students on campus too," Swinson said.  "I think at the end of the day, we're all just a part of a huge family network and it's so nice to unwind and learn something new.  We're all educating ourselves, so why not educate ourselves on a cultural level too?"
Jase Magarifuji
Staff Writer
Published April 30, 2014