Cooking up on-campus events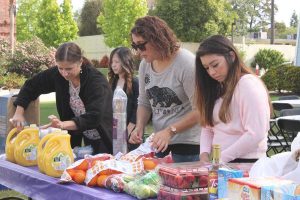 With all of the events happening around campus, there is sure to be a recipe that groups like Programs Board and Student Life have tucked away in a book.  Some key ingredients seem to be  themes like raising awareness and gifts of appreciation, which keep bringing students back to on-campus events.
Event planning professor Tom Smith can be considered by some as the master chef of event planning.
"You need to sit down and identify what your goals and objectives are. That's number one," said Smith on the process of making a fresh event.
According to Smith, everybody needs to understand why the event is taking place. A planner must ask themselves, "What is the purpose of this event? Why is it happening?"
"Number two, you need to have a solid understanding of what your budget parameters are," said Smith. "Number three, I would want to know who my stakeholders are. Who are the people who are going to be participating with the event? Who is the audience?"
Whether the event is for the board of directors, shareholders, students or members of the community, one must budget for everything necessary to engage the audience and be successful. Event planners must learn from past mistakes to get better results and more participation for projects, causes, clubs, etc.
"To make an event successful, we look at both campus and community partners. Who on campus has the different resources that we can tap into and partner with to really increase the bonds on campus?" said CLU senior community service intern Rebecca Reinhardt.
The different offices, clubs and organizations on campus are all great resources with people who work together towards a goal and put on great events.
Drawing in busy students on their way to class can be a difficult task. To gain attention, successful events have incentives.
"When you draw them in with something cool that they can get, you can also educate them," Reinhardt said. "Finding those cool incentives is really what students love."
Many students rush to class or feel too busy to stop for an event on campus.
"To get a free mug and learn how you can help your community in a couple minutes of stopping on your way to class is pretty cool," senior Kyle Dzurko said. "I haven't stopped often before, but I definitely will stop by more events after being educated and entertained in exchange for just a few moments of my time."
CLU staff, student body and members of the surrounding community learn, educate, entertain and spread great information on a regular basis with events on campus.
Smith said, "The best event is one where people walk away satisfied."
Shannon Cullen
Staff Writer
Published April 30, 2014