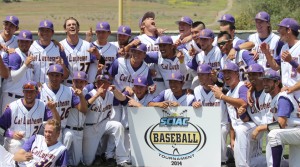 The men's baseball team's success continued this past weekend. Winning out the SCIAC postseason tournament, the Kingsmen are packing their bags for the Regional tournament, which is being held in Oregon.
Needing three wins this weekend in order to proceed to the Regional tournament, the Kingsmen rallied all of their efforts to accomplish just that. With a first round 8-5 victory over La Verne and a 6-2 semifinal victory over Chapman earlier in the weekend, it came down to playing Chapman again for the tournament championship on April 4.
CLU jumped on them early as they put up three in the first inning and added two more in the fourth, but were by no means relaxed in their demeanor. The Panthers tacked on one run in the fifth and had a huge opportunity to bring the game closer in the top of the sixth inning. After a "sun ball" scored one run, Chapman had the bases loaded with one out. Sophomore Landry Kiyabu was brought in for damage control and he got out of it through a 5-2-3 double play ending the inning still up 6-2. With an insurance run in the eighth, the Kingsmen won 7-2.
With back-to-back SCIAC championships, the Kingsmen felt nothing but joy in their wins. Junior catcher Spencer DuBois was ecstatic about the success he and the team have surmounted.
"It's a great feeling. The whole team has been working hard all season to get to this point, and seeing our hard work paying off is both fun and gratifying," DuBois said. "I'm looking forward to the prospect of continuing our success in regionals and advancing to nationals. The end of our season coinciding with finals is stressful and a bit challenging, but it's a good problem to have because a lot of teams have already finished their seasons."
Senior infielder Nicho DellaValle echoed DuBois' emotions.
"It's indescribable to have accomplished something like this. Being back-to-back champions is absolutely amazing," DellaValle said. "As far as Oregon is concerned, I am nothing short of excited. I think we are less worried about who we are going to be matched up against and more concerned with what we are going to bring to them."
While the team's success is celebrated by all, there is a special feeling shared amongst the seniors.
"It means the world to have gotten to take this journey together. We have always dreamed of making it this far together and to be living that dream feels great. I literally cannot put it into words," DellaValle said.
An overwhelming sense of joy and accomplishment is resounded throughout the whole team, according to junior pitcher Scott Peters, who got the win in the championship game.
"To put this kind of season together with so many new parts has been a testament to our hard work and coaching. I am lucky to be a part of such a cohesive unit," Peters said.
While they are taking time to revel in their victory, the Kingsmen are sure to hit the ground running in order to best prepare themselves for the road ahead. The West Regional will be hosted at Linfield College in McMinville, Ore. from May 14-18. The NCAA selection show is being broadcasted online on May 11. The Kingsmen may not know who they match up against yet, but if their postseason play is any indication of what is to come, the future is bright for this squad.
Kylie McLogan
Staff Writer
Published May 7, 2014